Traders are making "extreme bullish bets on higher silver prices. And history says lower silver prices are likely, starting now."
I wrote that exactly one month ago in a Review of Market Extremes update (which is a part of my True Wealth Systems newsletter).
In hindsight, the timing was nearly perfect...
Silver peaked at around $18.50 just a few days before that. And it bottomed out at less than $16.50 over a week ago.
Let me show you what I saw a month ago to signal silver might fall...
The story was simple. Bullish bets on silver had reached an all-time high. Take a look: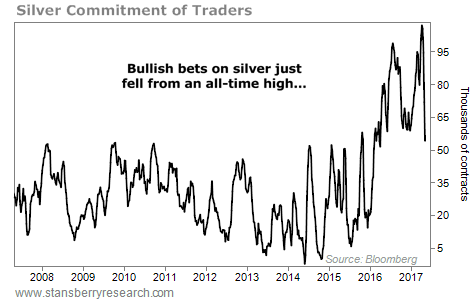 Specifically, silver traders in the futures markets had bought more silver contracts than at any time in history. That told me traders were extremely optimistic on silver.
This data comes from the Commitment of Traders ("COT") report. The COT report tells us exactly what futures traders are doing with their money.
I only use this report to spot extremes. I use it as a contrarian tool... When futures traders are all making the same bet, it signals a crowded trade to me – and the opposite often occurs.
My colleague Brett Eversole shared what happened the last time silver hit this kind of extreme
in an April DailyWealth
. Looking back at history, the only other time futures traders were close to this optimistic on silver was August 2016. The metal fell 24% over the four months that followed.
Based on that history, we believed a double-digit fall was likely this time... And we were right. Optimism was at an extreme. And a mini-crash followed.
The price of silver peaked for 2017 within days of the peak in optimism from silver traders...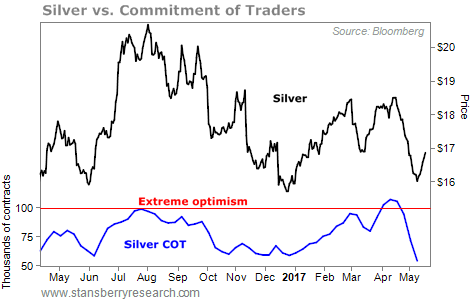 I shared last month's peak in sentiment with my True Wealth Systems subscribers. And silver promptly fell double digits, percentage-wise, from that peak.
As you might guess, the optimism among silver traders has worn off from a month ago. We are no longer near the peak in optimism.
So is now a good time to buy? Not yet...
I am not rushing in to buy... I would rather wait for a moment of greater pessimism before I dive into silver.
We're not there... yet.
Good investing,
Steve