An interest-rate hike "spells doom for gold prices," proclaimed one headline about precious metals in the Economic Times this week.
I had to laugh at that headline... because what it meant to me is the opposite of what it said.
You see, when I see doom-filled headlines, I know we are typically closer to a market bottom than a market top.
So when I first saw that headline, I didn't expect doom in precious metals prices. Instead, I went looking for opportunity in precious metals.
It didn't take long to find it...
The most hated precious metal today is platinum. (To me, "most hated" means it's the one with the most upside potential in the near term.)
For decades, platinum has typically been more expensive per ounce than gold. Therefore, it has a certain "ooh la la" to it in the jewelry store. It's sort of the "Rolls Royce" of precious metals.
But gold is trading above $1,200. Meanwhile, platinum has fallen to less than $900 an ounce. NOBODY believes in platinum today. This is EXACTLY what I like to see.
Take a look at the following 20-year chart of platinum versus gold...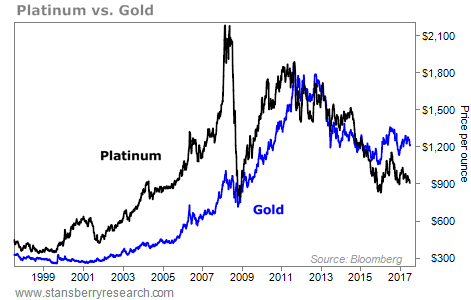 As you can see, this is an extreme situation. Platinum prices haven't spent a lot of time cheaper than gold prices over the last two decades.
In the last 10 years, platinum has fallen into the $800s just twice. And it didn't stay down there long...
In late 2008, it fell into the $800s. Platinum then doubled in less than 18 months.
In January 2016, it bottomed around $820 an ounce. By August – just seven months later – it rose to around $1,175 an ounce, for a 43% move.
Today, the situation is more attractive. Platinum is cheaper (relative to gold) than it was in those two previous instances. So the starting point here is even better.
But one big word of caution: I am not a buyer of platinum... yet.
You see, platinum is still in a significant downtrend. So I want to see an uptrend begin before I consider buying.
I told a similar story about platinum
back in May
. I said it was cheap, but it was still in a downtrend, so I would wait for the uptrend before buying. That was exactly the right thing to do... Platinum is down another 6% since then. (Prices rose slightly to around $915 yesterday... but the metal is still historically cheap.)
When I tell you to wait for the uptrend, I mean it!
Nobody cares about precious metals today. Meanwhile, the media headlines are about "doom" for precious metals. I love it.
If you are a contrarian investor, keep an eye on platinum prices... And consider buying once the uptrend returns. Since it's the most hated, your upside potential could be the greatest among all the precious metals.
Good investing,
Steve