When I can't even use the restroom in peace, I know we're at the top of the market...
I know how "hot" an investing idea is the moment I step off the podium after giving a speech.
If I draw a huge crowd right after speaking, and people are asking a ton of questions about exactly how to take advantage of the idea, then I know we're getting close to the top.
The craziest time was when the questions continued even as I made my way into the restroom – and even as I stood at the urinal. Then I knew the idea was at a top.
I tell you this because I spoke at the Vancouver conference this week (it's actually called the Sprott Natural Resources Symposium, but most people call it the Vancouver conference).
This year, I talked about the "Melt Up." And the response told me a lot...
The conference is always a fantastic event. And the Vancouver area is my favorite place in the world in the summertime...
The day before the conference, I went downhill mountain biking on the B-Line at Whistler – which is
incredibly thrilling
, to me, at least. And here's a cellphone photo from the Sprott Boat Cruise we took after the first day: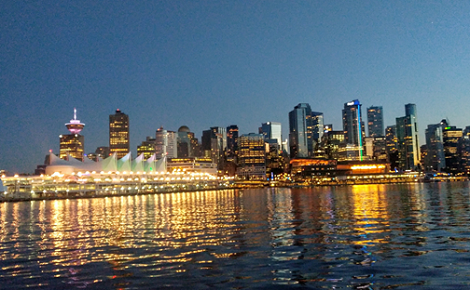 What's not to like about this part of the world, this time of year?
This time around, I talked about the Melt Up.
I shared this chart, which shows that the Nasdaq went up 100% during the final year of the last Melt Up... and that most of those gains really happened in its last five months. Take a look: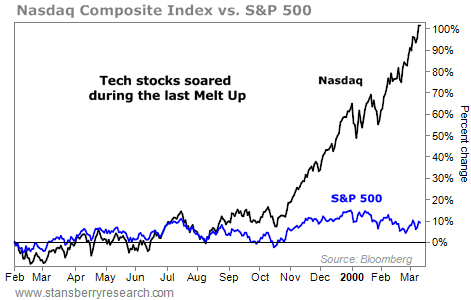 I said that I expected we could see a similar type of Melt Up this time around.
Nobody cared...
Instead of getting mobbed by an excited crowd... "How do I trade it?"... "What do I buy?"... Nobody really asked me anything afterward. I got "crickets."
It's all right. I know what it means. It tells me that nobody cares about U.S. stocks. Still.
It blows my mind. We're more than eight years into this bull market – and nobody cares about stocks yet. It's shocking.
It's not just individual investors. Fund managers feel the same way. My friend David Tice, an investing expert and former manager of the Prudent Bear Fund, tells me that "U.S. fund managers haven't been this underweight U.S. stocks since 2008."
It's crazy.
It also tells me that there's still PLENTY of upside left in U.S. stocks.
Remember the market peak in real estate, when EVERYBODY was "in real estate"?
I expect we will have a similar feeling about the stock market when it peaks. We are still a long way from that.
Again, I can tell how popular an investing idea is by the size of the crowd I draw after I step down from the podium. This week, I talked about my Melt Up thesis – and nobody cared.
When U.S. stocks get so popular that I'm still getting questions all the way to the urinal, I will let you know... We are definitely not there yet. There's still plenty of upside ahead...
Good investing,
Steve