If you want to make big gains in the market, you need to invest in growth.
Just consider the gains you could have made during the U.S. consumer boom in the 1950s...
From 1950 to 2015, U.S. gross domestic product (GDP) per capita rose 690%, adjusted for inflation.
During that time, the S&P 500 soared 11,700% (not including reinvested dividends).
Over the course of this boom, a handful of individual stocks made many regular investors a fortune – and turned some into millionaires. For example...
| | |
| --- | --- |
| • | $1,000 invested in oil titan Standard Oil (Exxon) in 1950 would have become $2.4 million by 2016 |
| | |
| • | $1,000 invested in tobacco giant Philip Morris (PM) in 1957 would have become $5.5 million by 2007 |
| | |
| • | $1,000 invested in soda behemoth Coca-Cola (KO) in 1962 would have become $221,445 by 2016 |
| | |
| • | $1,000 invested in fast-food icon McDonald's (MCD) in 1965 would have become $4.1 million by 2016 |

That's the power of investing in growth early on...
Right now, we're seeing massive growth in China's middle class.
But three other fast-growing markets likely aren't on your radar: Vietnam, Bangladesh, and India.
According to a recent report by professional-services firm PricewaterhouseCoopers (PwC), these three markets could be the fastest-growing economies through 2050 – averaging real economic growth of around 5% a year.
That might not sound like much. But consider that the U.S., the U.K., and Japan are all expected to grow less than 2% a year during the same period.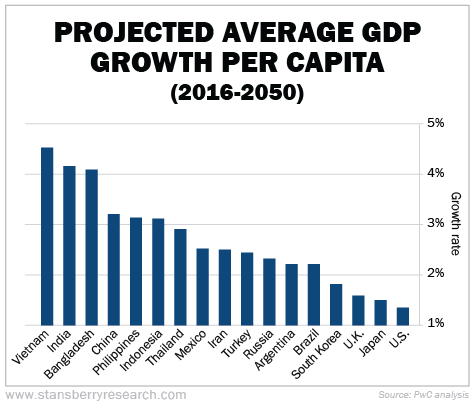 Thanks to this growth, India is expected to be the second-largest economy in the world by 2050 – eclipsing the U.S. and only finishing behind China (which will inevitably see its growth rate decline from current levels). Vietnam is forecast to move from the 32nd-largest economy to the 20th-largest. And Bangladesh could move from the 31st-largest economy to the 23rd-largest.
Economic growth comes from two sources: population growth and efficiency growth. (Broadly speaking, economic growth is a function of the number of workers in an economy and their productivity.)
Shifting demographics drive economic growth. While population growth is falling in many major economies like China and Japan (reducing the labor pool and damaging productivity over the long term), it is forecast to rise in many other parts of the world. Countries in Southeast Asia in particular have good reason to be optimistic... And changing demographics in this region will likely boost economic growth over the next several decades.
For economies, productivity is often measured as the percent increase in GDP per hour worked. This can come from people working more efficiently – for example, through technological innovation. Higher productivity means a growing economy.
GDP in these countries will also grow thanks to their youthful and fast-growing working-age populations, as shown in the chart below. More young workers boost output.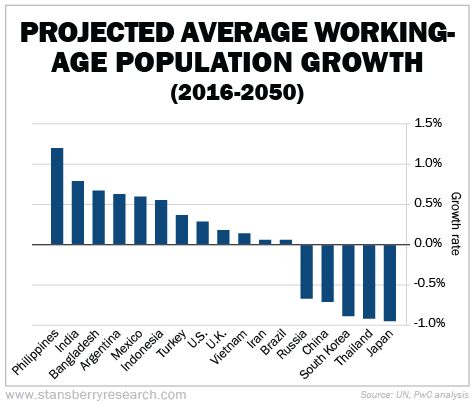 The easiest way to invest in each of these countries is through exchange-traded funds ("ETFs").
For Bangladesh, there's the db x-trackers MSCI Bangladesh IM Index UCITS Fund (XBAN on the London Stock Exchange). This fund tracks the performance of the MSCI Bangladesh Investable Market Total Return Net Index, which is designed to reflect the performance of a broad range of companies in Bangladesh.
For India, one ETF is the iShares MSCI India Fund (INDA). This fund tracks the MSCI India Index, which measures the performance of companies whose market capitalizations represent the top 85% of the Indian equities market.
In Vietnam, some ETFs badly underperform their benchmark index (known as tracking error). This is a particular problem there because the government (through state-owned enterprises) owns most of the shares in many publicly traded companies. This makes shares of those companies very illiquid (they don't trade much) and very volatile. And that makes it difficult for fund managers to accurately replicate the performance of the index.
If you do want to invest in a Vietnam ETF, one option is the VanEck Vectors Vietnam Fund (VNM). This fund tracks the performance of the MVIS Vietnam Index. Companies in this fund must be incorporated in Vietnam, generate half their income in Vietnam, or have half their assets in Vietnam. Another option in Vietnam is to invest in actively managed funds, like the AFC Vietnam Fund (AFCVIET), an open-ended fund that focuses on small- to medium-sized companies in the country.
Good investing,
Kim Iskyan