Major gold stocks are down 60% in the last six months. Small gold stocks are down even more.
So I checked in with two experts last week to find out just what's going on – John Doody, a former professor of economics who writes the Gold Stock Analyst, and Rudi Fronk, CEO of Seabridge Gold. Seabridge owns what will by the end of this year be considered the largest gold deposit ever found in Canada.
John Doody says, "Now has to be a once-in-a-lifetime buying opportunity in gold stocks." Unless you think gold stocks are leading the price of gold into a bear market, Doody says you need to be a buyer.
But let's back up for a second... What's caused gold stocks to fall so far in the first place?
Typically, investors buy gold stocks for their leverage to the gold price. The basic idea is, if gold goes up 10%, then gold stocks should go up 20% or more. But in this case, Doody says, "When the buyers for all stocks go on vacation, they take the gold stock investors along."
Rudi Fronk can't believe what's happening in gold stocks either. "Small gold stocks like ours are caught up in a liquidation sale by hedge funds going out of business," Rudi said. "They bought shares like ours for leverage to gold... and now they're forced to sell as they close up shop."
I thought part of the reason for selloff in shares was the credit crisis... Nobody has access to a billion dollars (or two) to fund a major gold mine. Nobody is willing to lend that kind of money.
"That's not it at all," Rudi told me. "The big guys don't need to borrow... They can invest out of their cash flows. Also, they can borrow that kind of money. A month ago, Barrick borrowed $1.2 billion at around 7% interest."
As a sign of the times, Barrick (the world's largest gold company) fell 17%...on Thursday alone.
Meanwhile, falling commodity prices are actually great for gold companies. Energy costs are a huge part of mining. Once the massive money-creation exercise by our Treasury and Federal Reserve kicks in, the price of gold should go up.
So for gold miners, the price of what they sell (gold) should go up... And gold production costs are going down. Seabridge, for example, has 50 million ounces of gold in the ground. At $800 an ounce, that's $40 billion worth of gold in the ground.
Yet the market value of the stock is so low, you're only paying about $5 per ounce of gold... for what is equivalent to a permanent call option on the price of gold. Also, Seabridge just sold one of its properties... So it will have over $40 million in cash on hand... more than ever before. With that kind of cash on hand, and a slow burn rate, Seabridge will never have to tap the markets for money again.
No wonder John Doody is so excited.
However, gold stocks sure have been in a heck of a downtrend... And I don't recommend buying into a downtrend. It's like trying to catch a falling knife. But keep this ratio in mind...
John Doody points to the historic ratio of the XAU gold stock index to the price of gold. As this chart shows, whenever that ratio has hit 6, gold stocks have soared by hundreds of percent. As you can see, the ratio is well above 6. We're now in uncharted territory... With the crash in gold stocks, the coming rise could just be ridiculous!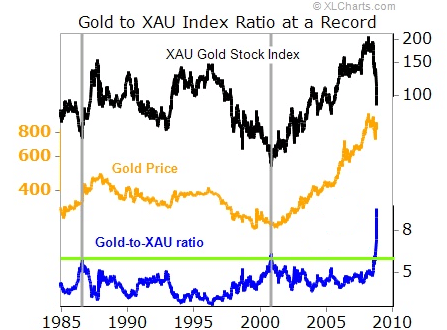 You may have never bought gold stocks before. But now... or very soon... it looks like we're due for an incredible rise.
Good investing,
Steve