"Will you let my husband eat?"
Oh no. I'd embarrassed myself...
In just a couple minutes, I can usually size up whether an investor knows what he's doing or not. About 99 times out of 100, investors don't have a clue. But I was at a dinner at a hedge-fund conference in Belize. And the guy next to me... Rahul Saraogi of India-based Atyant Capital... he really knew what he was doing.
I didn't believe it, I guess, because it's rare to find guys like this. So I kept asking questions. And he kept hitting them out of the park... Until his wife got tired of it.
I thought we were having a conversation. But his wife thought I was grilling him. (At least he passed the test!)
He later said, "Steve, someday you should come to India. I'll show you around."
This happened maybe seven years ago. I never expected he'd make good on his promise.
But Indian stocks have crashed this year. So a month ago, when the Indian stock market had lost nearly half its value in dollar terms from its peak earlier this year, Rahul sent me an e-mail. He invited me to come to India to check out the opportunities.
His timing was great. Today, Indian stocks (as measured by the Bombay Stock Exchange's "BSE 30" index) are the cheapest they've been since April 2005 on a price-to-earnings and a price-to-book basis. If you'd bought Indian stocks in April 2005, you'd have made three times your money in less than three years.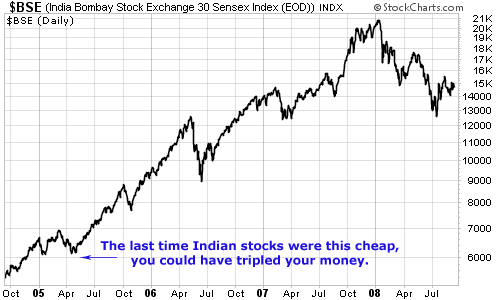 But that's for the big stocks... Rahul's hedge fund focuses on the small stocks. Why small Indian stocks? In short, his fund has a huge competitive advantage...
"Steve, foreigners basically can't buy Indian small-caps. Yet our fund can... and foreigners can own our fund. There are thousands of Indian small-caps. And we have relatively easy pickings, as there aren't enough brokerage firms to cover them, research wise."
Plus, he explains, some of these small caps offer extraordinary value... "You can always find plenty at exceptional discounts. There's a reason in most cases... many are thinly traded, and many have heavy family ownership. It's just a simple process for us to find the right ones. We can do our homework, then go out and meet the owners, and we can make our decision... with very little competition."
With Rahul's invitation, the DailyWealth team – me, editor in chief Brian Hunt, and our marketing head Mike Palmer – is heading to India next week. (My co-writer, Tom Dyson, who's been traveling around Asia, will meet us in Chennai.)

But it has fallen dramatically this year and is now as cheap as it's been in years. Even better, we're in as good hands as we could possibly be. Our guide has a huge advantage in India... and is one of the few folks around the world who knows how to make money investing.Is India a great buy now? I don't know... I've never been, and neither has anyone else on our team.
Stay tuned...
Good investing,
Steve