There is something big going on in the global real estate market. A seismic, history-making shift unfolding right before our eyes...
The problems in the U.S. mortgage market help this trend along, sort of.
In a nutshell, there is a global rush for income. Not just income, but income from tangible assets. Sam Zell, the billionaire financier, talked about this at an investment conference in New York. He's the one who got me thinking about it. Not a bad guy to listen to, actually. If I could have billionaires give me investment ideas every month, I think I'd do OK.
The basic thesis goes like this: Funky debt instruments stamped with investment-grade ratings burned lots of people in the meltdown over the summer. Like sticking your finger in an electric socket, it's something you have to do only one time. So there is an aversion to abstract and contrived and opaque investment vehicles designed to deliver steady income.
In its place is a desire for simplicity. Something tangible. Something an investor can trust. Something like simple old-fashioned commercial real estate.
It's not only the investors licking their wounds like hurt puppies who are interested. Zell talked a little about the so-called "sovereign wealth funds." Basically, these huge pools of state-run money in places such as the United Arab Emirates, Saudi Arabia, China, and other countries. Most of these countries are ones that sell us in America a lot of something – such as oil. So they're sitting on massive piles of dollars they've accumulated from these sales over time.
Turns out these funds like real estate. The Wall Street Journal recently reported that the Kuwaiti fund, for example, is upping its investments in real estate, particularly of the non-U.S. variety. Zell maintains that we're only beginning to see the effect of the sovereign wealth funds on the demand for real estate.
So that's the demand side. You've got this growing interest in owning real estate because of its (perceived) steady income and its tangible and simple nature.
Now, let's look at the supply piece of the puzzle.
Put simply, there is a ton of real estate in the world and only a small fraction of that is listed in public markets. Which is to say that the vast majority is still in private hands. Take a look at the chart below, which I published in the last issue of my advisory, Capital & Crisis.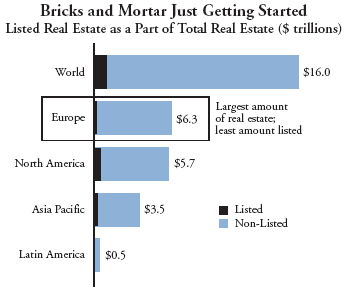 Zell says we are in the midst of the greatest monetization in the history of the world. The big trend is to turn more of that private real estate into listed securities. That process will give investors more options. Aiding this process along are a number of new government laws making it easier, more tax-efficient and profitable to take real estate public.
It's a huge trend. And now that you are aware of it, see how many times you run across a story about it in the papers. Ever since I've been following this story in just the last couple of months, I see significant deals nearly every week. One of my favorite ways to invest in this trend is through Japanese real estate.
Japanese real estate grabbed my attention for a couple of reasons. First, I happen to like the yen. The yen seems cheap. In June, it hit a 22-year low against a basket of other major currencies. As Reuters reported, "That puts the yen index at its lowest level since July 1985."
Anytime anything makes a 22-year low, I'd like to know about it. That's a long slide down. If the yen is cheap, then you want to own yen or assets denominated in yen, such as Japanese stocks. At least, you want to think about carving out some of your portfolio for that kind of exposure.
But there's a bigger reason to think about owning Japanese real estate.
Something recently happened in Japan that hadn't happened in 16 years. Commercial land prices actually rose for 12 months ending this past June.
Japan's mighty struggles over the last decade and a half are well known. I won't rehash the tale here. I'll only say that I think it's a great idea to put your money in a market that has been in the tank for 16 years and is just starting to show its first price increases. It's not like we're talking about some basket case in Africa. This is Japan, after all.
Japan is the second-largest (or third, depending on how you measure) economy in the world. The standard of living is high and the economy advanced. Since there is so little land in Japan relative to other economies its size, Japanese real estate traditionally proved a good investment. Japanese real estate nearly always went up in the post-World War II era, save a brief period after the second oil crisis in the late 1970s. It rose meteorically in the late 1980s bubble, which popped in 1991. After that, we've seen a long stretch of sinking prices and a torpid economy.
But now Japan is on the mend. It's enjoyed nine consecutive quarters of economic growth. Japanese companies continue to enjoy success abroad. They are flush with cash and need office space. There is little of it in Tokyo. And there's not a lot of room to build much more. Vacancy rates are below 3%. That means companies already occupy 97% of the rentable space.
Not surprisingly, rents are on the rise.
Now put it all together: the whole global demand for real estate, a cheap currency, rising land prices in Japan, low vacancies, and rising rents.
In short, it looks like a good time to be a landlord in Japan.
Good investing,
Chris Mayer
Editor's note: Chris Mayer is the editor of Mayer's Special Situations, a monthly investment advisory focusing on small, hundreds-of-percent-upside investments. He's been featured on Fox Television's weekly Bulls & Bears, Forbes on Fox, and on CNBC.
He's also one of the best investment newsletter writers in the world. To learn more about his top idea – a small energy company that should double next year –
click here
.