Don't believe all the gloom and doom you read...
The U.S. housing bust may be just about over. We should be darn close to the bottom... possibly within one year of it.
You probably don't believe me. That's okay. I'm used to being the contrarian – it's a position I prefer to be in actually. But bear with me, and at least hear me out...
Today, I'll share with you two simple facts that explain where we are now in housing and why we could be close to the bottom. Let's get right to it...
1) Houses are affordable again.
You may be flabbergasted to hear this... But U.S. houses are affordable again.
Since last summer, the change has been extraordinary. The typical mortgage payment on the typical home in America now is 20% cheaper than it was less than a year ago. Let me explain:
Last July, the median U.S. home would have cost you about $230,000. And you'd have paid about 7% in interest on your mortgage. So that's a $1,200 monthly mortgage payment on that house (assuming a 20% down payment).
Today, the median home price is $200,000 – a $30,000 difference from last summer. And mortgage rates are down to 6%.
Between the lower price and the lower mortgage rate, you'd be paying less than $1,000 a month on your mortgage now – for the same house that would have cost you $1,200 last summer!
Most people shop for homes based on their mortgage payment... They ask, "How much can I afford each month?" And then they look for homes that will give them a payment they can afford.
So the big question is: Can the typical household afford the typical mortgage payments on a typical home? Last summer, the answer was no. But now, the answer is yes. Take a look:
Already? Yes! Houses are affordable again...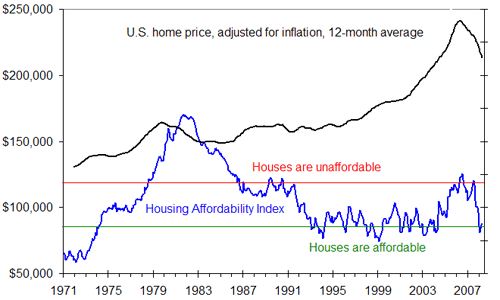 You may be surprised to hear it, but thanks to lower mortgage rates and lower home prices, homes are affordable... They're just as affordable now as they were right before they boomed in the 2000s.
2) We've paid our dues, pricewise.
You may also be surprised to learn home prices in general don't go up that much...
The median U.S. home price has only risen at about 1.5% per year since the 1970s, after you subtract inflation. That's not much of a gain. (Even that 1.5% price gain is overstated... Homes have gotten much larger since the 1970s.)
The annual increase in price has been consistent... Whenever prices run significantly above that trend, like in 1978 or 1987, they run significantly below that trend three to four years later.
Have we paid our dues yet?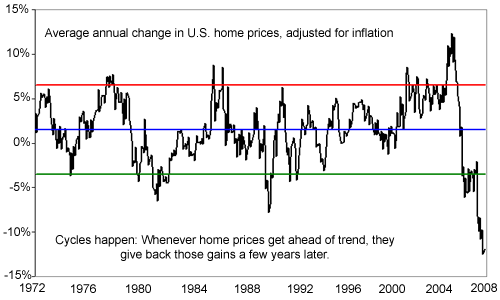 Cycles happen. You can see it easily in this chart. You can also see in 2005, prices ran farther above trend than any time in history. And now, in 2008, prices have fallen farther below trend than any time in history.
Could we see another year or two below trend? Of course. But I expect that we're in the process of finishing "paying our dues." We'll return to the trend.
In sum... you may be surprised to hear it... but
| | |
| --- | --- |
| 1) | U.S. homes are once again affordable. |
| 2) | We've just about "paid our dues" pricewise. |
These indicators are pretty simple. They show how the worst of the housing bust could be behind us already.Don't get caught up in the gloom and doom. Stick with the simple facts.
Good investing,
Steve