I'm getting over a cold now…
Fortunately, this cold was a short as any I've had in a while. I did one thing differently with this one…
I tried something called "Cold-Eeze" (www.coldeeze.com). The active ingredient in Cold-Eeze, I just discovered, is zinc.
Zinc is in my shampoo too… I noticed last night that zinc is the active ingredient in my Head & Shoulders shampoo.
I normally wouldn't notice these things…
But three weeks ago, I visited a zinc production facility - where they extract zinc from rocks. The visit led me to recommend a company - one of the world's largest zinc miners - to readers of my Sjuggerud Confidential advisory.
---------- Advertisement ---------
The Secret Behind the World's Richest Family

What do rich people do when stocks and real estate get risky?

Many of the world's wealthiest families (such as the DuPonts, Morgans, Adams) use a secret form of currency, which was outlawed by the government for 41 years, but is now legal again.

In fact, this "Secret Currency" was the foundation of the richest family in world history.

Click here for report, which explains all the details... and details how you can use it to safely make a fortune today...
----------------------------------
This zinc company will pay an incredible 18% dividend in the next 12 months. It is one of the world's cheapest stocks (trading at a P/E of about 2, based on Wall Street estimates for the current year). And best of all, it has a bit of a "moat" around its business, as nobody wants a zinc mine or smelter in their backyard.
Yes, as you might imagine, the price of zinc has risen, along with other "industrial" metals (zinc's primary use is in galvanizing steel, and it's used in alloy form in airplanes and cars).
This move in the price of zinc is justified… as there simply isn't enough to go around right now… Zinc stockpiles are at their lowest levels in 15 years: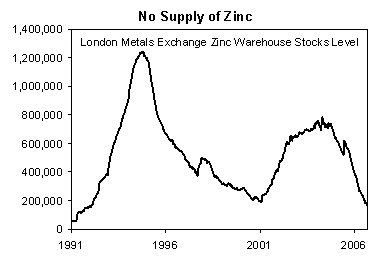 Production is expected to increase, and by 2008 we should be back at the supply/demand equilibrium. The price of zinc should fall then. But until then, zinc prices should remain high…. High enough for the stock I recommended to make enough cash in three years to buy all of it's shares at the current price. This is one cheap stock!
I hadn't known about the importance of zinc in our lives before. But in the last few weeks, I've learned. Zinc, it turns out, is essential to life. It's in every cell in your body, as your body requires the mineral for cells to multiply.
Beyond the benefit of rust proofing steel, zinc benefits us all in may ways. It's been proven to boost brain activity, stimulate growth, heal wounds, and protect your skin. It also helps regulate the production of immune system cells, which protect against infection and some cancers.
We can't live without zinc. Could that make it one of the world's most important metals? Right now, there's not enough supply to meet demand.
I still like commodities for the next few years. Zinc, with very low stockpiles, looks interesting. My recommended zinc play is one of the world's cheapest stocks… but you'll have a hard time finding it if you look for it.
As I mentioned, this company should pay an 18% dividend in the next 12 months, and trades just two times estimated earnings for this year.
It's unbelievably cheap… ignored by just about every investor in the world… and it's time to buy!