-with interview extracts from Steven Drobny's
Inside the House of Money
adapted for
DailyWealth
.
To source my stories, I read a tremendous amount of books and papers, I subscribe to research services, and I read The Economist religiously. If somebody asked me how to get involved in global macro investing, I would say start with a subscription to The Economist, read it every week, and think about what you learned this week that you didn't know the week before.
If you read about an oil discovery, start thinking about how to develop it into a trade. The idea is to do as much research as you can just reading and thinking about anything in the world before reaching out to your network.
Developing a network by going out and meeting groups of intelligent people is also very important. Another thing that's important is not to be afraid to be ignorant or ask questions. Learn to love to listen to people and when you hear something interesting, follow up on it. Don't just think, "Well that's an interesting idea," only to find out a year later that the company you could have bought shares in is now up five hundredfold. You never want to saycoulda, woulda, shoulda.
When I find a really compelling idea that I don't know much about, I put a tiny amount of money into it and treat it like a cheap option.
If all I had was The Economist, I think I could still do what I do. If I only read The Economist, my portfolio right now would be long Asian equities for the next 10 years.
---------- Advertisement ---------
Nevada's Gold Income Secret
Most Americans have no clue that in Nevada hides a secret residents have been using for years to help them grow rich, and stay rich, well into retirement.
In short, it's an opportunity that enables ordinary Americans to collect lucrative financial royalties - between $250 and $950 - several times a year. The Washington Post reports, "No [opportunity of its kind] in the United States promises more future riches..."
Click here
to learn more.
----------------------------------
The world has become divided into a producer center, which is Asia, and a consumer center, which is the United States. Asia has better demographics and people there are willing to work 60-hour weeks at much cheaper rates. Americans, on the other hand, are only willing to work 40 to 45 hours a week but are willing to leverage themselves to the hilt to buy more things. There's also an amorphous area in the middle called Europe, which is neither an aggressive consumer nor an aggressive producer, and demographically it's all screwed up.
As an investor, I want to be invested in the producer as opposed to the consumer. I also want to be focused on buying value stocks instead of growth stocks, so I would go through and pick all of the value stocks in Asia that I could find.
I'd be buying Thai property developers because Thailand has a twin surplus and is expanding nicely. I'd be long Indian stocks out the wazoo. I'd be long Korea. I'd be long Hong Kong. I would not be buying Chinese stocks because I'm not comfortable with the rule of law there, but I really believe China's doing something special so I'm investing in the people that supply China.
Ghana is a good example of the value of reading The Economist . There were a few stories about their president—Kufuor—detailing his economic views and policies. He was very impressive and the upshot was that I started looking at it favorably.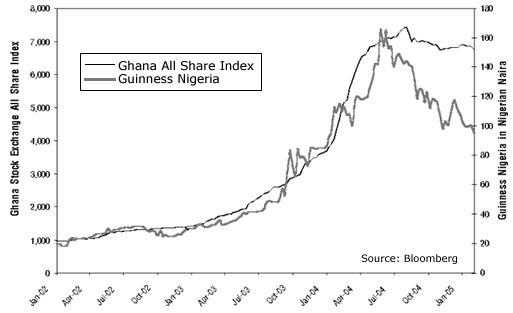 Another example is Nigeria. A few years ago The Economist had something on Nigeria, stating that average beer consumption had dropped from 34 liters to 3 and then rebounded to 4.That signaled to me that there must be a trade there. There's something going on when beer consumption drops 90 percent in a hot country and then starts to rebound. We started buying Guinness of Nigeria, and it's gone straight up over the last three years. It was as close to a no-brainer as you can get. I'm sure many funds wouldn't want to touch it because of expropriation risk, illiquidity, and various other risks that they might have a hard time explaining to their customers, but to me, all that matters is performance. Nothing else.
| | |
| --- | --- |
| -Extracts taken from Inside The House of Moneycopyright © 2006 By Steven Drobny. Reprinted and adapted by arrangement with John Wiley & Sons, Inc. | |
Editor's Note: Steve Drobny is cofounder and partner of Drobny Global Advisors (DGA), an international macroeconomic research and advisory firm that counts many of the leading global hedge funds as clients. Prior to starting DGA, Drobny worked for Deutsche Bank's hedge fund group in London, Singapore and Zurich.

Jim Leitner, the subject of this adapted interview, is the founder of Falcon Management.