The U.S. Federal Reserve has raised interest rates 18 times since June of 2004... bringing us an interest rate of 5.25%.
The big question in the markets this week is... Is the Fed finished?
The answer is yes...
This is not a bold prediction by me... it's simply what the markets are telling us...
Millions of dollars worth of bets are placed every day on what the Fed will do about interest rates. These bets are placed on the Chicago Board of Trade (www.cbot.com).
Currently, the market is "predicting" no change in interest rates at this Fed meeting... or the next one...or the next one. In fact, the betting at the Chicago Board of Trade suggests that the Fed won't raise – or lower – interest rates again in 2006.
Now we've got nearly five months left in the year. A lot can change, which can cause these bets to change. But right now, the Big Money is betting on no change for the rest of this year. You should plan for the same...
So what does it mean if the Fed is really done raising rates?
I asked our in-house number crunching guru Ian Davis to give me some hard numbers about the Fed's actions and asset prices, and here's what he came up with...
When the Fed is raising rates, stocks do poorly, rising at only 2% a year... which means stock prices are not even keeping up with inflation.
But when the Fed is cutting rates, stocks actually return 14.5% a year... a phenomenal return. You can see specifically what he did in the chart below: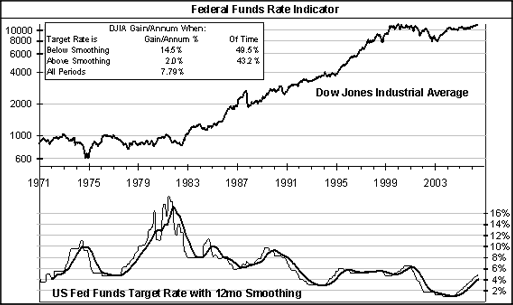 The bets on the Chicago Board tell us that the Fed is likely done raising interest rates for the rest of this year. However, the bets there DO NOT suggest when the Fed will start cutting rates again.
Asset prices (like the prices of stocks and real estate) CAN do well when the Fed is cutting rates. It makes sense – the cost of borrowing money is cheaper, so you can make more money in profits.
The trick is to be in the right trade.
That's what we're here for at DailyWealth... to help guide you into the best - and safest - investments, at the right time.
If you're looking for a specific trade in the current interest rate environment, you ought to check out the latest issue of Porter Stansberry's Investment Advisory...
In it, Porter shows how interest rates on two-year bonds drop dramatically at this stage in the interest rate cycle. And he offers up a way to make 50% on your money in two years... with absolutely no risk to your investment.
It sounds too good to be true, but he'll show you how it's done. If you're not yet a subscriber to Porter's letter, you ought to check it out.
Good investing,
Steve