Greetings from New Zealand's hottest real estate market... Queenstown.
The median home price here has jumped from NZ$200,000 in 2001 to NZ$600,000 today (NZ$=New Zealand dollar). That's an extraordinary rise in five years.
As my wife and I walked Queenstown, we said this is the perfect type of place to buy a house... once the real estate market here collapses! Today I'll explain what I mean...
Queenstown is the adventure sports capital of the world, striving to be both Aspen and Lake Tahoe. Just today, we pulled off the road to watch people throw themselves off a bridge, over 125 feet down. They were doing this on purpose... you see, Queenstown is the birthplace of bungee jumping.
If it's a crazy idea, folks in Queenstown are probably doing it.
Queenstown has actually been the best performing real estate market in New Zealand since 1981 (according to an 85-page study from www.hnzc.co.nz). Auckland came in a close second place. In fact, New Zealand was the second best performing housing market in the world over the last 12 months, as the table to the right shows:

Although New Zealand has been hot lately, many areas of New Zealand have actually fallen in price since 1981, according to the study.

The study drew some conclusions. About areas of falling prices it said,"each of these areas tended to experience population stagnation or decline and low economic growth over much of the past two decades."

On the flip side, "Strongly performing areas are dominated by the major urban centres and vacation destinations."

I don't think we needed an 85-page study to learn that, over the long run,

home prices go up where people want to be.
Going on this simple premise, you can make a lot of money...To make money in real estate, you have to do one of two things.

1. You find an established area that is having economic difficulties in the short run, but will no doubt attract people in the long run. Or...

2. You find a new place that may soon attract people. (This one, of course, is harder to do.) The first type might be "blue-chip" investing, and the second is "speculation."
Baltimore might be a good example of this first one. I believe the founder of Agora (the publisher ofDailyWealth), Bill Bonner, bought some of Baltimore's nicest old buildings for $1, with the promise to invest heavily to renovate them. Those buildings are now worth millions today.
It was bold to buy in Baltimore city over a decade ago. Without a doubt, everyone must have told Bill he was crazy to buy. But Bill bought things of extraordinary value. Now, the Baltimore market has recovered and surpassed its old highs. Now everyone thinks real estate is close to a sure thing in Baltimore.
The lesson here is this: In order to make a fortune in real estate, you've got to be willing to buy when everyone says you are crazy to buy. And the peak in the market is likely close when everyone thinks real estate is a sure thing.
It's hard to buy something everyone else hates. It's uncomfortable. But the crazier people think you are, chances are, the more money you'll make. To give the market time to come around, plan on holding for five years.
The problem with this strategy now is nearly every major real estate market seems expensive. So where can you go that's cheap and hated?
According to The Economist table above, three places have seen property prices fall over the last decade: Hong Kong, Japan, and Germany.
Let's take a quick look at Germany:
As the chart below shows, when adjusted for inflation, real estate in Germany is as cheap as it's been since the 1970s. And most people think you'd be crazy to buy, so it's probably time to learn more about this market, to see if there's great value. But I prefer to wait for what looks like an uptrend in prices before I even consider it...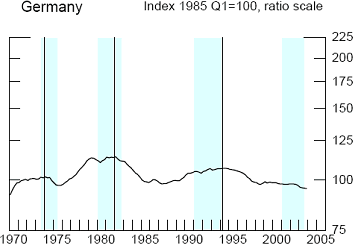 While we spend time looking at cheaper markets like Germany, many of the red-hot markets like Queenstown, New Zealand will bust. The ultimate buy signal, as always, is when even the realtors there think buying is a bad idea.
"Too much upkeep, not enough renters now," they'll say. And I'll ignore them and buy.
I've heard it before from realtors... I last heard it in Buenos Aires a few years ago, and I made a bid on the nicest apartment in the city I could find. My bid wasn't accepted, and now, no doubt, that property has soared in value.
But I'm sure to find dejected realtors again somewhere in the world. And I'll be glad. Then I'll know we're close to the bottom.
I'll let you know when I hear it. But in Queenstown, New Zealand, we're not even close.
Good investing,
Steve