Last month, I showed you
corporate bond fund LQD
...
As long as this bond fund is rising, you have nothing to worry about. Russell Napier, a well-known stock market historian, studied market tops and bottoms over the last 100 years and showed corporate bonds tend to lead the stock market by several months at important turning points.
When this bond fund starts falling, you should exit the stock market, but until then, you have a green light to speculate...
LQD has turned lower in the last four trading sessions. Please keep an eye on this chart. If it breaks below 103, immediately exit the stock market. A large decline may be imminent.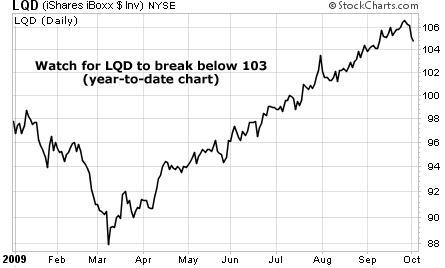 LQD isn't the only indicator I follow to track the health of the market. I also watch the British pound...
The British pound is one of the most important financial indicators in the world. Britain was at the epicenter of the credit crisis. It had a huge housing and mortgage bubble... even bigger than the housing bubble in the U.S. Britain also had a huge banking and finance bubble. In this bubble, London became the world's largest financial center. Finance represents almost 10% of Britain's GDP.
In other words, the pound is the perfect symbol for housing and financial excess. When the pound is rising, it means the pain is subsiding and the storm clouds are breaking. When the pound is falling, financial misery is increasing.
Here's the chart of the pound. On Friday, the pound broke down to new four-month lows.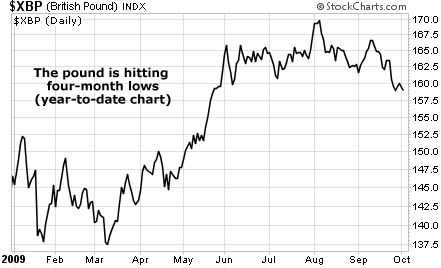 Here's another bearish development. Commodities are falling in terms of gold...
Gold is a safe haven. People turn to gold when they're afraid of financial chaos. But when they're optimistic, people use more energy, eat more food, and live in bigger houses. These activities require industrial commodities like oil, copper, aluminum, and corn.
So the relationship between gold and industrial commodities is an excellent barometer of fear and greed in the stock market. When commodities fall against gold, there's fear in the air. But when they rise against gold, people are growing optimistic.
This chart shows the price of gold set against the CRB Index of commodities. This barometer led the stock market by three weeks in March, when the bull market started.
In September, the commodity-gold ratio broke down to a new four-month low. It hasn't made a new low for three weeks. But watch this one. There may be misery coming in the stock market if it makes a new low...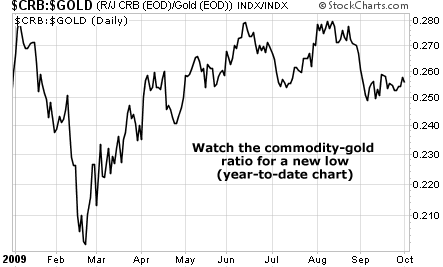 If you invest in the stock market, you need to follow the performance of these three charts. They're among the best gauges of fear and greed in the market. As their prices go, so goes the stock market.
Right now, these charts are hinting at a new downtrend. My advice, hold off on making new buys, cut your most risky positions, and tighten your stop losses.
Good investing,
Tom