It's the Eagle Ford in South Texas. Judging by the pace of the drilling that's already begun and the production rates of each new well, production in the Eagle Ford will grow to nearly 40,000 barrels of oil per day within the next 24 months. That's roughly $1 billion worth of oil per year at current prices.
Those estimates don't take into account the hundreds of additional rigs that will be put to work...
By 2013, I expect Eagle Ford to yield more than $2 billion in oil and gas and to increase production for at least 20 years. These numbers mean Eagle Ford will probably produce hundreds of billions worth of oil and gas over the next 30-40 years.
How did this happen? How did a giant oilfield suddenly appear in Texas – an area that's been thoroughly studied and drilled since the 1930s? I asked my colleague, resource analyst Matt Badiali, to explain.
For decades, oil companies drilled into the Austin Chalk, the Georgetown, and the Buda limestone, just above the Eagle Ford. These rocks held billions of barrels and trillions of cubic feet of gas.
Geologists knew the Eagle Ford shale was the source of that oil, but couldn't extract it until new technologies – like horizontal drilling – opened up the shales around 2001. Even with new technologies, shale plays are tough to drill. The shale sits around 12,000 feet below the surface. And it's only about 250 feet thick.
To put it a different way, drillers are trying to drill onto a particular house lot from two miles away. Not only that, but the drill bit has to turn 90 degrees and become horizontal. That's no easy feat, and really only became common in the industry in the last few years.
The Eagle Ford shale stretches from the Mexican border in the southwest almost to Houston in the east – roughly 400 miles. It is about 90 miles wide.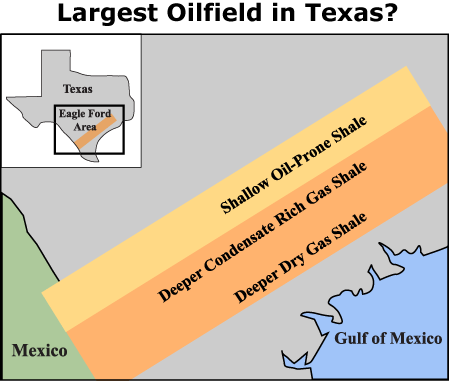 Given the unique geography, the extensive drilling that's already been done, and the well results to date, there's not much uncertainty left about how much gas and oil are in the play.
The only question left: Which companies to buy to profit?
Currently, a dozen relatively liquid, publicly traded oil and gas companies are involved in Eagle Ford. The biggest are ConocoPhillips (COP), Anadarko (APC), and Chesapeake (CHK).
These three are world-class operators. But for more direct exposure to the field, a smaller company is a better bet.
In the latest issue of my investment advisory (out Wednesday), I told readers about my two favorite Eagle Ford stocks. One will get you the most amount of Eagle Ford acreage per share, at the very lowest price. The other is a small company I expect will become one of the major producers in the region.
Click here
to learn how you can get immediate access to this report.
Good investing,
Porter