Hedge-fund manager Bill Ackman once received a six-figure photocopying bill from a law firm... for 140,000 pages of photocopying.
The attorney general wanted Ackman's investment research on MBIA. So he subpoenaed it... and got all 140,000 pages.
Whether Ackman makes money (like he did on MBIA) or loses money (like he did on Target), you can be certain that he was thorough in his homework.
Today, Ackman has a new big idea, and he's putting his money where his mouth is...
I saw Bill Ackman speak last week at the Ira Sohn Investment Conference. To me, he stood out among maybe a dozen other speakers (mostly big-name hedge-fund managers) as the most thorough analyst at the conference.
At the end of his presentation, he mentioned he'd just purchased 150 million shares of Citigroup. At over $4 a share, that's a $600 million-plus stake in Citigroup.
And get this: The government bailed out Citigroup in the 2008 crisis. So the government is selling its shares of Citigroup, and a successful hedge-fund manager is buying. Which side do you think will turn out to be right? The shares bottomed around $1 in March 2009, and they're still down over 90%.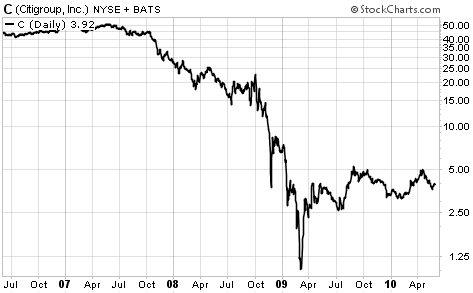 Ackman spoke a bit about Citigroup in a recent interview...
"If you asked me a year ago if I could have conceived of owning Citigroup, I'd have said no," Ackman said. But "ironically, Citigroup is probably one of the best capitalized banks today."
Citigroup is a "great franchise" that's "back on its feet." Since Fed Chairman Ben Bernanke has kept short-term interest rates at zero, "now is a great time to be in the banking business."
Ackman noted that of course there are "still question marks of some assets on its balance sheet." But with a quick look at its valuation, it seems to me like the stock has those question marks priced in...
The stock is cheap, selling at a 25% discount to book value and for less than 10 times its earnings over the next 12 months.
Citigroup is cheap. The government is selling. And the most thorough analyst out there just bought 150 million shares of it.
Good investing,
Steve