In late 2008, shares in gold stocks suffered one of the worst wipeouts in market history.
Most small, speculative gold stocks lost over 80% of their value in just a few months. Even the bigger, more established gold miners lost nearly 70% of their value in seven months.
Since this washout, many gold stock investors are scared to death of what could happen to their holdings if a big market correction hits. Well, such a correction has hit... Investors have fled stocks in general in the past month and a half. But they've left gold stocks alone... and they've created an extraordinary "divergence."
If you're bullish on the sector, you have to be aware of what's happening now.
To see what I mean by "divergence," we need to check in on how gold stocks are performing relative to the stock market as a whole.
Below is a performance chart displaying the percentage gain in the big gold stock fund GDX (black line) versus the performance in the benchmark S&P 500 stock index (blue line) over the past four months.
Up until late April, gold stocks and the broader market moved higher at about the same rate (although gold stocks were more volatile). Then, on April 23, the broader stock market reached its 2010 peak.
That's when gold stocks and the S&P started "diverging" from each other. The S&P is down 11% since April 23. Gold stocks – helped by the near-$100-per-ounce climb in the gold price – are up 8% during the same time.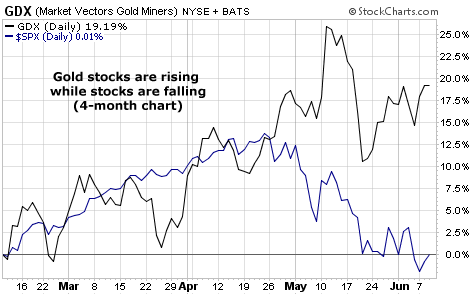 This is incredible "relative strength" from the gold stock complex. After all, at the end of the day, gold stocks are stocks. When investors need to dump portfolios and raise cash, gold stocks are just as easy to sell as the next stock.
Gold stocks are also viewed as more speculative than most sectors... so it's a bullish sign to see them hold up while folks are dumping other speculative positions, like
oil stocks
and
emerging market stocks
.
But the underlying strength in gold, coupled with large investors taking big positions in gold stocks, has allowed gold miners to buck the negative overall stock trend.
For instance, mega hedge-fund manager John Paulson has around $2 billion in just one of his gold stock positions, Africa-focused AngloGold Ashanti (AU). Considering that the soaring price of gold
is pumping up profit margins for miners
, it's no wonder super investors like Paulson are buying them right now.
If you're looking to take a similar gold stock position, some elite miners to consider are Goldcorp (GG), Newmont Mining (NEM), and Randgold (GOLD). You can also take the diversified path and own the big gold stock fund (GDX).
There's no guarantee gold stocks will continue this extraordinary outperformance. This trend is relatively new. But it's likely to continue. The uptrend in gold is the most powerful uptrend in the market right now... It's brushing broad market weakness aside and taking gold stocks with it.
Good investing,
Brian Hunt