In December 2005, Citigroup announced a new 10-year, $100 million bond issue...
At any time, Citigroup has hundreds of different bond issues trading in the markets. Right now, for example, my Bloomberg terminal shows over 500 different Citigroup bonds. There was nothing special about this 2005 issue...
The housing market was rising, Wall Street's mortgage machine was in full swing, and America was enjoying the peak of its prosperity. At the time, you and I were paying 6% to borrow money secured against our houses. Citigroup would pay 5.3% to borrow money, unsecured.
For two years, these bonds traded in a narrow band between $95 and $105. Then in March 2008, Bear Stearns failed and prices started to erode...
Citi's bonds broke $90 in July, when Fannie Mae and Freddie Mac failed. They broke $80 in September, when Lehman failed. And by March 2009, when it seemed Citigroup itself might fail, they had fallen to $62...
Here's the thing: In the last six months, the credit markets have made a remarkable recovery. This bombed-out Citigroup bond issue now trades for $99 again. In other words, investors are pricing these bonds as if the credit crisis never happened. Amazing.
This chart of the investment-grade bond fund LQD is even more amazing. It shows prices of top-quality corporate bonds have surged and are now back to 2006 levels...
Corporate Bonds Are Nearing Credit-Bubble Highs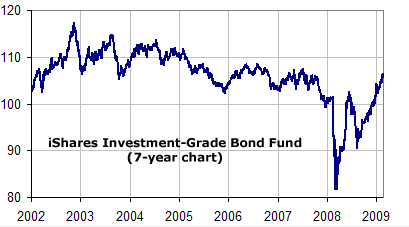 Most people don't know this, but the bond market is far more important to America's economy than the stock market. For one thing, the bond market is over five times as large as the stock market. For another thing, institutions dominate the bond market. They may not be the shrewdest investors in the world, but they are sophisticated, they trade billions, and they trade with less emotion. The stock market is a roadside casino in comparison, reflecting the hopes and dreams of a million gamblers.
I don't recommend you buy LQD or corporate bonds in general. They're expensive now. Besides, government support is the only reason the bond market is soaring and Citigroup's bonds are trading back at par. If the government withdraws this support for some reason, the bond market will collapse again.
Instead, use the bond market as an indicator. Russell Napier, a well-known stock market historian, studied market tops and bottoms over the last 100 years and showed corporate
bonds tend to lead the stock market
by several months at important turning points.
Today, the trend is clearly up. So for now, stock market investors have nothing to worry about. But keep an eye on LQD. It should give us advance warning of the next trend change in the stock market.
Good investing,
Tom