Can you really make money by acting "dumb" in the market?
Ask a thousand financial advisors this question, and a thousand will tell you it's impossible. They'll say you need to study the fundamentals. They'll say you need to know where the economy is going... They'll say you need to pass a bunch of tests like they did to make money in the market.
As Steve covered in yesterday's essay,
it's easy to get caught up
with things that are "supposed" to matter to your finances. You're "supposed" to be concerned with unemployment numbers and GDP estimates. After all, that's what they talk about on CNBC.
But decades of experience and huge amounts of computer testing have proven to us that simply focusing on what's happening with the "big trend" is what matters when it comes to making money in the market. By simply sticking with trends – by acting "dumb," as your financial advisor sees it – you can actually make a fortune in any asset.
For example, folks in the media obsess over every little daily move in the gold price. A $50-per-ounce decline in gold merits a 10-minute news segment nowadays. Investors like Warren Buffett will tell anyone who will listen that owning gold is a dumb idea. After all, it doesn't pay any interest. You're just sitting on a lump of metal.
But if you simply "act dumb" and look at gold's long-term trend, you'll see there's no need to get worked up over a $50 move... or what the price of gold "should" be. Gold was at $300 per ounce in 2002. It has gradually climbed to $1,500 per ounce today. This obvious idea is the most important thing when it comes to making money when trading.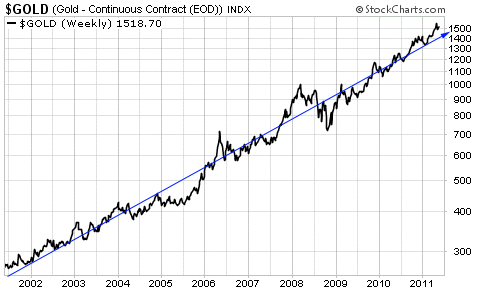 It's the same story with gold's cheaper cousin, silver. Silver was $5 per ounce back in 2003. It's now $37 per ounce. It's easy to get worked up over the big moves we've seen in the past few months... or to get "spooked" out of your entire silver position.
But when you step back and look at the big picture, you see silver is in a huge, long-term uptrend. Silver could actually fall to $25 per ounce (a big 32% fall from here) and still be in a bull market.
Yes, it's important to know the decline of paper currencies against gold and silver is what's driving this uptrend. But ultimately, making money here comes down to simply sticking with the trend.
There are always going to be big moves in any asset. There are always fundamentals to keep in mind. But when sizing up investment choices, make sure to take a deep breath and consider the "big trends." Short-term declines and "news noise" will always get you worried. It's just human nature. Sticking with big trends is what makes you money.
Following this advice amounts to "acting dumb" in the eyes of a mainstream financial advisor. But it's a simple idea we've proven works over and over.
Nobody ever knows exactly what will happen to stocks, the economy, the upcoming election, or interest rates. But we DO KNOW trends tend to last far longer than anyone expects. Right now, the trends in gold and silver are UP. Trade accordingly...
Good investing,
Brian Hunt