I see abandoned real estate all over my town. Half the businesses still operating are running on fumes...
Our Kmart is a basket case. It's always empty. The Walgreens is a teardown. The Beach Warehouse has 10 customers per day. My local supermarket is another walking zombie. All the stores around it are empty... Sears has gone. The café restaurant has gone. The carpet store has gone. They've boarded up the car dealership...
The simple fact is, they built too much commercial real estate in the boom. My town has a population of 25,000, yet we have two Wal-Marts, a Kmart, and a target. We also have a Lowe's and a Home Depot. Even in the boom, there weren't enough customers for all these stores. Now that we're in a recession, my town is starting to resemble a suburb of Chernobyl.
The scary part is, they're still constructing new malls a couple of miles away. What the heck are these idiots smoking?
Right now, I believe real estate investment trusts (REITs) are one of the worst places you can put your money. But there is one exception...
Realty Income (O) is one of my all-time favorite income investments. It's Realty Income's goal to produce dividends for its owners. Every decision it makes is designed to bolster the dividend. Producing dividends is the reason management gets out of bed in the morning.
Realty Income was founded in 1969. It has paid a monthly dividend every year since its incorporation. Realty Income became a public company in 1994. It has paid 463 consecutive monthly dividends and raised its dividend every quarter. That's 46 consecutive quarterly dividend increases.
Right now, Realty Income pays an 8% dividend.
This is a chart of the iShares Dow Jones US Real Estate Index (in red) mapped against Realty Income's chart (in blue). The last 12 months were the worst year in REIT history. REITs fell 50%. Yet Realty Income's stock is exactly where it was last year. That shows incredible strength...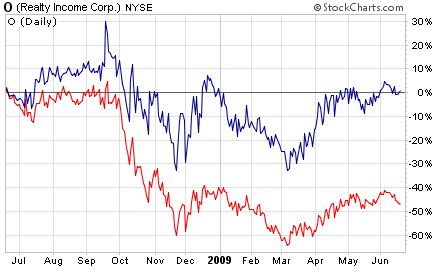 Realty Income's business model is simple. It buys convenience stores, gas stations, tire changers, chain restaurants, theaters, and daycare centers. Then, it leases the properties back to the owners in long-term leases with inflation bumps priced into the rent payments.
Realty Income only does business with companies that provide basic services. You'd never find a jeweler or an auto dealership leasing property from Realty Income, for example.
Guess what businesses are working best near my house? The gas station, the dry cleaners, the post office, and the Mexican restaurant. These businesses haven't seen any dent in custom, as far as I can tell.
Realty Income's simple business model and expertise in real estate investing translates into an incredibly stable dividend that rises slowly over time. It's safe, too. It has a 30% debt-to-equity ratio, no mortgages, and it doesn't have to pay back any debt until March 2013... plenty of time.
In sum, Realty Income is a rock-solid real estate company. I recommend you check out Realty Income's annual report. It's not like the annual reports other companies produce. Management writes it for the benefit of the small shareholders like you and me. It's easy to understand and fun to read.
If you like what you see, you should consider buying the stock and collecting the 8% dividend. This is one dividend that will rise for the rest of your life...
Good investing,
Tom
P.S. I recommended Realty Income to readers of my newsletter last night. Except I found a way to play it that's far better than buying the stock. I'm expecting readers will make one of the safest 20% annual gains in the history of finance.
If you'd like to gain access to this recommendation, I encourage you to take a free trial subscription to the
12% Letter
. You risk nothing... and gain access to the best income investment you can make this year.
Click here
to get started.