I love tech stocks...
Not the market-darling social networks or the absurd valuations in the venture capital market. I love tech stocks that provide sometimes dull, but always necessary, products: the hardware and software essential for business and communication.
The services are so vital, I call them "Digital Utilities." In the same way you expect running water and electricity to get your daily business done, you expect a reliable Internet connection, some basic software, and an accurate search engine.
If you've been reading my research for any amount of time, you've heard this story before.
But how do you find Digital Utilities and dodge wild tech companies? I'll let you in on a secret... It's easy.
You see, for every wild tech company burning through cash, a select few create massive profitable cash flows by providing essential services.
Take a look at the following chart. It shows the expected sales growth for selected tech companies over the next year, along with their current valuation, as measured by price-to-earnings ratio.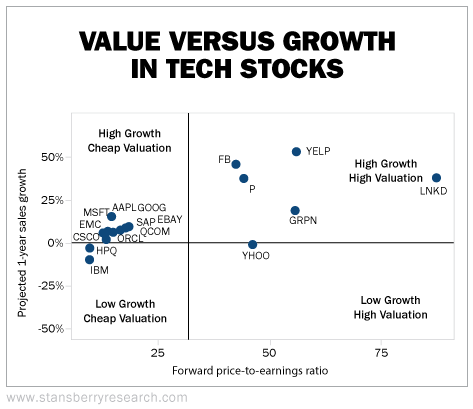 We didn't include stocks like Twitter, software maker Splunk (SPLK), and online-game developer Zynga (ZYNG). Their valuations were so high, they'd literally be off the chart.
What you're looking for in a Digital Utility is positive growth and a low valuation. It's really no different than what you look for in any stock investment.
That means the cluster of stocks collected in the upper-left quadrant offer the best values.
You've seen these names in my writing before. Businesses like Oracle, Qualcomm, and Cisco all post consistent profitable growth and all trade at valuations near or below the rest of the market.
Many of them – like Cisco and Microsoft – even have respectable and consistent dividend yields.
Take Microsoft, for instance...
Microsoft operates around the globe in many segments of the computing, business, and gaming world. Almost everyone knows Microsoft's products. In the last 12 months, the company sold $91 billion in goods and services, up an unbelievable 13% over the previous year.
MSFT has a real business. While many think of the Xbox gaming system or its new tablets, MSFT makes its money by selling other things that are absolutely critical to business. Things like Microsoft Office software or the operating systems that run business servers.
I'm using Microsoft Word to write this now. And my company paid for the software.
And that real business generates huge cash flows. Over the last four years, MSFT has generated more than $100 billion in free cash flow. MSFT has amassed more than $80 billion in cash on its balance sheet.
The company is paying that extra cash back to shareholders with a 3.1% dividend yield and $26 billion in planned share buybacks.
Microsoft currently trades for about 17 times earnings, while the rest of the market trades for about 18.5 times earnings.
Sure, you're not likely to get a short-term 300% gain on Digital Utilities like Microsoft.
But these companies are safe, steady, cash-gushing machines. The need for routers and switches, word processors, and efficient search engines isn't likely to decline any time soon. Better yet, these healthy businesses should continue to treat shareholders well and provide excellent vehicles for compounding your wealth over the long term.
If you want to find the best tech stocks in the world to own, I suggest you pass on the market darlings and focus on Digital Utilities. And as I showed you above, finding them is simple.
Here's to our health, wealth, and a great retirement,
Dr. David Eifrig