When you're trying to find successful companies, the biggest factors driving stocks are often outside the control of management.
Things like oil prices... new technology... interest rates... regulations... consumer tastes... even
demographics
.
That's why my team and I spend so much time understanding those big, overarching trends.
Today, I'm going to share the two biggest trends we see shaping the current market... and an easy way to profit. Let's get right into it...
The two trends that will drive markets over the next year are low interest rates and the strength of the U.S. dollar.
Right now, interest rates are historically low. The 10-year U.S. Treasury, which is often used as a barometer of bond markets, yields just 1.9% compared with its 20-year average of 4.2%.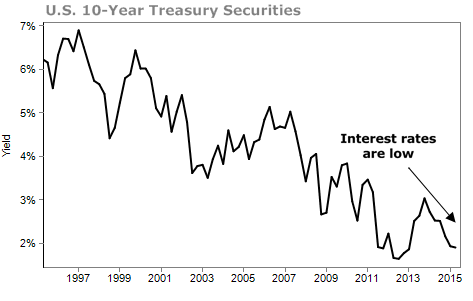 Interest rates touch on everything from how businesses borrow and expand to how and what people invest in. They represent the riskiness of letting someone else use your assets to grow their business. Right now, low rates mean things are nearly riskless.
Market observers have been expecting interest rates to rise soon for more than three years. They've consistently been wrong.
At the same time, the dollar has strengthened against major currencies. Based on the U.S. Dollar Index ("DXY"), it's up 23% against a basket of currencies over the last 12 months.
That's a big move. One of the biggest you'll see in your lifetime.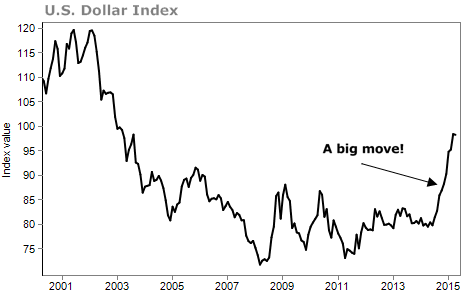 The stronger dollar means that interest rates are even less likely to rise soon. When the dollar is strong, imports are cheap. That holds down inflation. So the Federal Reserve has less reason to raise rates.
The stronger dollar also means companies that sell goods overseas end up making less profit on those transactions. That could slow growth and hiring, which again discourages the Federal Reserve from raising rates.
So we want to invest in sectors that benefit from these two big trends... We want companies that benefit from low interest rates and don't sell many goods overseas.
One great example is the utilities sector...
Utilities are often seen as stodgy investments. Their businesses are highly regulated, but so are their profits. They often operate as local monopolies.
Utilities also have to make investments in big expensive projects to expand their networks and upgrade their systems. That means they collect higher profits when interest rates stay low.
Since they sell virtually all of their production here in the U.S. in exchange for dollars... a strengthening dollar also gives them a boost.
Now, take a look at a chart of the Dow Jones Utility Average: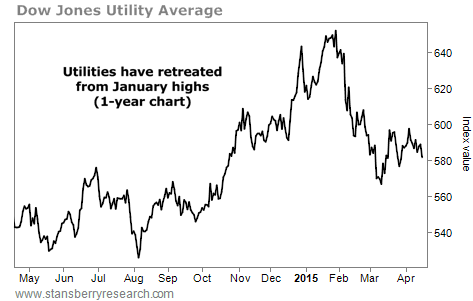 As you can see, in January and February, investors feared that higher interest rates were coming soon. That bumped utility shares off their highs. Right now, the average yield in the utility sector is an ultra-safe 3.4%. To us, that makes now a great time to buy again.
In short, low interest rates and strength in the dollar are likely to persist over the next year. If you're looking for safe yield with the potential for some capital gains, check out the utilities sector.
Here's to our health, wealth, and a great retirement,
Dr. David Eifrig Jr.