In July 2005, I recommended three small gold stocks in my high-priced, speculative newsletter back then called Sjuggerud Confidential.
At the time, gold-exploration companies were dirt-cheap and completely ignored. Nobody wanted anything to do with them.
My top recommendation went on to return a 995% gain. That's the largest gain of any recommendation in the history of my publisher, Stansberry Research.
And right now, I believe we have a similar – but even better – opportunity than back in 2005. Today, I'll show you why...
You've got to remember, the price of gold in mid-2005 was around $425 an ounce... To put that in perspective, the price of gold was down 50% from its highs 25 years earlier! Why on Earth would anyone invest in a gold-exploration company in 2005?
Of course, you know I'm a contrarian investor... I look for what nobody else wants. By 2005, gold had bottomed and was moving up. So I started checking out the gold positions with more upside potential – like exploration companies.
I wanted to find three companies with massive piles of gold in the ground. I wanted to find three "golden lottery tickets" that never expired... They just needed the price of gold to go up.
So in July 2005, I recommended three gold-exploration companies to my subscribers – Seabridge Gold, Arizona Star, and Crystallex.
As I wrote then, "the thing about buying tiny gold stocks is, you really shouldn't buy just one." You want to spread your risk, as some will soar and some will crash. I stand by that advice today.
As you know, the price of gold soared over the next few years. Seabridge Gold and Arizona Star turned out to be home runs – you would have more than doubled your money on both of them following my advice.
Seabridge was the top performer – we pocketed a 995% profit. That 2005 recommendation of Seabridge Gold has turned out to be the best-performing stock recommendation of my career so far. The third stock didn't turn out so well... Crystallex was taken over by the Venezuelan government and basically went to zero.
But because our risk was spread out across three stocks, we made extraordinary returns.
And today, we have an even better opportunity than in 2005...
Gold-exploration companies have been decimated over the past four years. They're down 90% since April 2011. Take a look...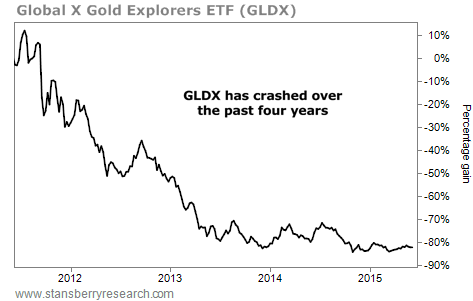 After a crash like that, gold explorers like Seabridge Gold are cheaper today than they were in 2005 (based on how much gold you control when you buy a share of their stock). And they're more hated than I can ever remember. Nobody wants anything to do with them.
The bigger picture in gold stocks is similar...
This next chart is a ratio of a gold-stock index to the price of gold. Today, you can see that this ratio is right at its all-time lows...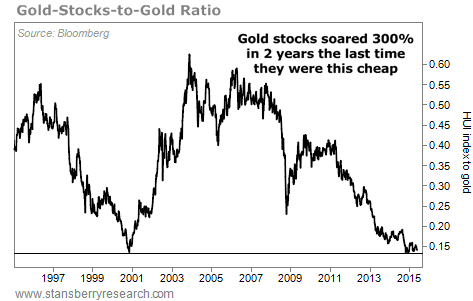 The only time this ratio got this low in the past was in late 2000 – and gold stocks soared by 300% in two years after that.
Right now, we have one of the best opportunities in history to buy gold stocks. This ratio is too extreme to ignore. Gold explorers have fallen the most – they are the most hated.
While I believe all gold stocks could perform well over the coming years, the biggest gains will come from following my 2005 blueprint... buying "golden lottery tickets" with huge hoards of gold in the ground.
That's what I'm doing in my
True Wealth Systems
newsletter right now. In fairness to my readers, I can't tell you the specific recommendations. But I recently put together a full report on the idea, which you can check out
here
.
Even if you don't become a True Wealth Systems subscriber, you have an amazing opportunity in gold stocks today. I urge you not to miss it.
Good investing,
Steve