Based on the headlines last week, you might think that China's currency (the yuan) is crashing... and that you need to panic.
While I was surprised that China devalued the yuan, we need to put this into perspective...
China's currency is not crashing. And you don't need to panic.
The chart below should clear up what has been happening... In short, the yuan hasn't crashed... It has actually been incredibly strong. It has performed "in line" with the U.S. dollar since last summer, while most other major currencies have crashed. Take a look: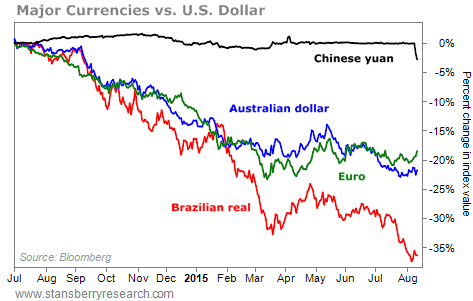 It's critical that you look at this chart... As you can see:
| | |
| --- | --- |
| • | Brazil's currency has fallen by nearly 40% since last summer versus the U.S. dollar. That is a crash! Other emerging-market currencies have fallen dramatically too. |
| | |
| • | Even in developed countries, currencies have fallen by a lot versus the dollar... The euro and the Australian dollar are both down roughly 20% since last summer. That's a heck of a fall in a currency! |
| | |
| • | Meanwhile, China's currency has been strong. |

Since last summer, the U.S. dollar has reigned supreme... It has crushed all competitors – except China. This brings up two important questions...
| | |
| --- | --- |
| 1. | Why did China's currency NOT fall when all the others did? |
| | |
| 2. | How did this affect China? |

Let me answer each of these...
The yuan didn't fall over the last year because China's government didn't want it to... Until now, the Chinese government has "managed" the value of its currency...
Unlike the euro or the Australian dollar – which are determined by market prices – the Chinese government has had a policy of "pegging" the yuan to the U.S. dollar. China's government has used its trillions of dollars of currency reserves to keep its currency value stable versus the U.S. dollar. That's why it didn't fall.
So how has this affected China?
It has hurt the economy – particularly its exports. Here's a simple way to think of it...
Imagine that you have a T-shirt company... Last summer, you chose to make your T-shirts in China, because it cost you $8 a shirt there versus $10 a shirt in Brazil. This summer – thanks to the major moves in the currency markets – it will only cost you $6 a shirt in Brazil. The thing is, it will still cost $8 in China – because China's currency has been pegged to the U.S. dollar.
What would you do? Where would you choose to make your T-shirts?
You would choose to make them in Brazil. And that's all because China's currency peg with the U.S. dollar made China less competitive.
This is a simplified example, of course... but it explains why China's exports are struggling. And it's one explanation for why China chose to weaken its currency last week. It wants to become more competitive again.
China's government has taken its hands off the control levers on the yuan for another big reason...
China ultimately wants its currency to become one of the world's "reserve" currencies. And one of the criteria for that is a currency must be reasonably freely traded – not government controlled. The Chinese government's moves this week were a bold step in that direction.
So China's devaluation killed two birds with one stone... 1) It helped its exports be more competitive, and 2) it proved that it will allow its currency to trade a bit more freely – a key step toward approval as a "reserve" currency.
Where do we go from here?
I shared my thoughts on that with my paid subscribers on Friday. If you're not already a paid subscriber, I urge you to consider coming on board now...
What's happening in China will likely be the biggest investing story over the next decade. I hope to guide readers through what I expect will be hundreds of percent gains in that time.
For more on how to become a subscriber – and the opportunity in China –
click here
.
Good investing,
Steve