You can call Ben Bernanke an idiot, a policy wonk, or just another government stooge... but the new uptrend in the commodities complex loves the guy.
Commodities are direct beneficiaries of inflation. Two weeks ago, Bernanke announced a plan to inflate the U.S. money supply by over a trillion dollars. Commodities celebrated. Oil and copper both broke out to new four-month highs. The Swiss, British, and Japanese governments are also pursuing inflationary policies. As the world's most important money issuers destroy their currencies, commodities could explode.
Let's take a closer look at the two most senior commodities: copper and oil. The news for these two hasn't been this bad since the Great Depression...
The Bureau of Labor Statistics reports the economy has lost almost 2.5 million jobs over the last five months, and the unemployment rate has risen to 7.6%... the highest level since June 1992. The "capacity utilization" rate for total industry has fallen to 72%, the lowest level since 1983. All this means the industrial economy is collapsing. That's terrible news for both copper and oil, which are important industrial commodities.
According to the U.S. Department of Transportation, Americans drove 7 billion fewer miles in January, a 3.1% decline from last year. This should be terrible news for oil.
Homebuilding is one of the biggest users of copper. In January, only 23,000 new homes were sold 2009 in the U.S. – the lowest level for January since the Census Bureau started tracking sales in 1963.
I could go on, but my point is, when the price of a commodity breaks to new highs amid terrible news, it's begging to rise even more.
Both oil and copper have just broken out to new multi-month highs.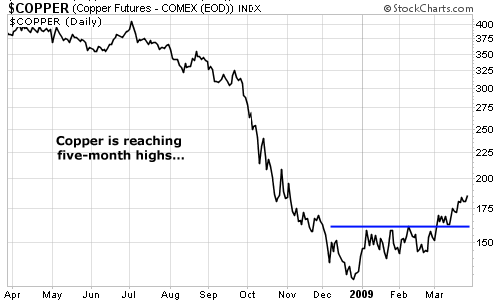 Nothing's ever certain in the stock market, but if you had to bet on an asset rising tomorrow, would you bet on the one that's already rising or the one that hasn't moved? I'd say the one that's already rising is far more likely to continue in that direction.
Right now, global trade is collapsing. We're in the deepest recession since the 1930s... and yet copper and oil are "breaking out," and commodities are swamping our best-performer lists. The Fed is inflating the money supply and commodities are showing incredible strength.
Good investing,
Tom
P.S. The readers of my
12% Letter
advisory are already participating in this trend. We've recently picked up two commodity producers. While these aren't the sort of stocks that double overnight, they do pay solid double-digit dividend yields. As commodity prices rise, my readers will compound their gains with even larger dividends. To get on board,
click here.