European stocks have boomed to start 2017.
Last week, I told you that European stocks were entering a stealth bull market. And right now, we're seeing a huge breakout in Europe's largest economy... Germany.
In December, the iShares MSCI Germany Fund (EWG) jumped 6% in just three days. And the rally has led to new 52-week highs.
History shows buying after a 52-week high is a good idea. Not only that, but it could lead to double the typical one-year return on German stocks... starting now.
Let me explain...
I know most investors are scared of buying after a market hits new highs.
It feels wrong. It feels like you already missed it. But history tells a different story...
Buying after a new 52-week high is almost always a good idea. And in the case of German stocks, it leads to dramatically higher returns going forward.
German stocks tend to more than double their typical one-year return after hitting a new 52-week high. And that is exactly what is happening right now. Take a look...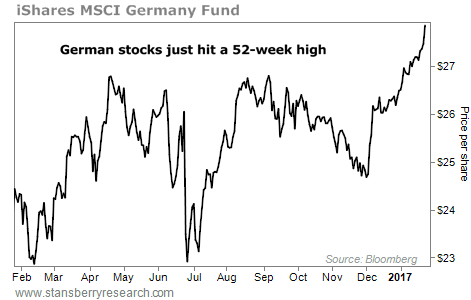 German stocks just staged a major breakout. This almost never happens...
German stocks have hit new 52-week highs only 5% of the time going back to 1996. But what happened next is especially interesting...
Since 1996, buying after these new 52-week highs was a great idea. It led to more than double the typical "buy and hold" return for German stocks over the following year. Take a look...
| | | | |
| --- | --- | --- | --- |
| | | | 1-Year |
| After extreme | 5.2% | 6.8% | 6.9% |
| All periods | 0.8% | 1.6% | 3.1% |

German stocks saw lackluster performance over the last two decades. On average, the typical buy-and-hold strategy led to 3.1% annual gains over that time (not including dividends).
That's not an impressive return... But buying after German stocks hit a new 52-week high led to significantly better gains... a 5.2% return in three months, 6.8% in six months, and 6.9% over the next year.
That's incredible outperformance... It's not often you get a chance to double the typical annual return in an entire country.
That is exactly the opportunity we have in German stocks right now. They just broke out to a new 52-week high... And history says more gains are likely from here.
I expect Europe as a whole to be a major investing story for 2017. And German stocks look like a great place to put money to work right now.
Good investing,
Steve