Gold is quietly leading again...
In the August 24 Digest, we noted that gold is on pace to beat the S&P 500 for the first time in years...
You wouldn't know it from the financial headlines, but gold is quietly having a great year. As you can see below, it's on pace to beat the broad market for the first time in six years...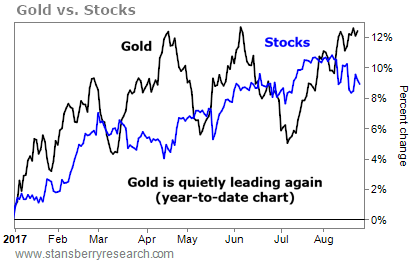 Gold is up 12.4%, compared with just 9.2% in the S&P 500. This hasn't happened since gold's last great bull market ended in 2011.
But gold isn't just beating stocks this year...
The precious metal is also beating bonds. And when we say bonds, we aren't just referring to a particular corner of the bond market... We mean virtually all of them.
As you can see in the following chart, gold is beating long-term Treasury bonds, 10-year Treasury notes, investment-grade corporate bonds, high-yield (or "junk") corporate bonds, and even Treasury Inflation-Protected Securities (or "TIPS")...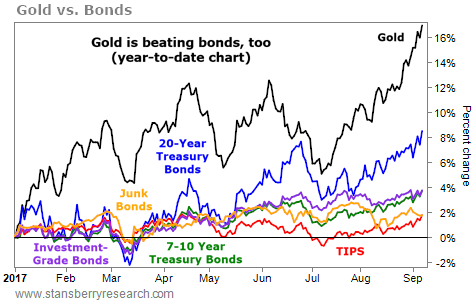 This, too, hasn't happened since gold's last bull market ended six years ago. And it's an undeniably bullish sign.
Gold's recent outperformance versus long-term Treasury bonds is particularly noteworthy. After a brutal six years, it suggests gold is finally resuming its traditional "safe haven" role once again.
Another month, another big decline in auto sales...
Last week, we learned that U.S. vehicle sales plunged again in August. As economic-data firm Econoday reported...
Unit vehicle sales faded noticeably in August, to a 16.1 million annualized rate from 16.7 million in July. This is the lowest rate since February 2014.
Sales of domestic-made vehicles fell to 12.7 million from 13.2 million with imports at 3.5 million from 3.6 million. Sales of both cars and light trucks showed declines. These results point to a sharp August reversal from what were unusually strong vehicle sales in the retail sales report for July.

The data suggest that sales of sport utility vehicles ("SUVs") and trucks – a longtime relative bright spot for the industry – are now slowing, too.
What about Hurricane Harvey?
Some readers have asked if the storm could save the industry from this trend. After all, if hundreds of thousands of vehicles were destroyed, won't that lead to big demand for new vehicles to replace them?
These folks aren't alone. The financial media are widely predicting the same thing. As Bloomberg reported earlier this month...
After an initial lull period to take stock of the devastation and reopen dealerships, the boost to sales over the next several months could be significant. Harvey may have done more vehicle damage than any storm in U.S. history, destroying as many as half a million autos, according to Cox Automotive.
In addition to seeing replacement demand from the heavily vehicle-dependent city of Houston, manufacturers led by Ford Motor, General Motors, and Fiat Chrysler are expected to sell more pickups, both to support reconstruction efforts and meet demand from a market that already loves trucks. The shares of the three largest U.S. automakers rallied Friday even as the industrywide sales pace missed estimates...
To meet replacement demand in Texas, carmakers may have to crank up assembly lines just as they did after Hurricane Sandy hit the New York metro area in 2012, and after Hurricane Katrina battered New Orleans in 2005. Boosting production would be welcome change for a U.S. auto industry that's been laying off workers at passenger-car plants as demand contracts following a record seven-year growth spurt.

We suspect the auto bulls will be disappointed... Remember, we heard similar arguments when hundreds of thousands of vehicles were damaged during Hurricane Sandy in 2012. Yet the reality was a little different.
Data show the storm had no lasting impact on auto sales. In fact, as you can see in the following chart – courtesy of Daniel Ruiz of the excellent automotive blog Blinders Off – the post-Sandy spike in sales was nearly indistinguishable from the seasonal spikes in other years...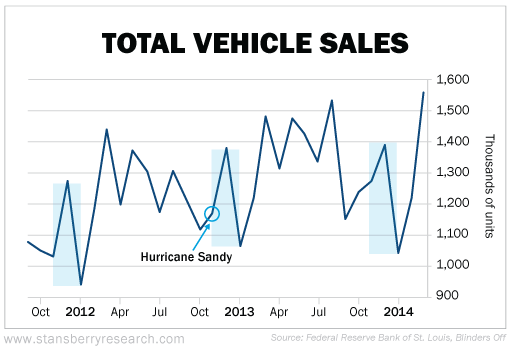 So yes, we could see a short-term boost in sales as vehicles are replaced. But history suggests that's all it will be.
A big win for Tencent...
Finally, regular DailyWealth readers know our colleague Steve Sjuggerud believes "New China" leader Tencent Holdings (TCEHY) will one day surpass Apple (AAPL) to become the world's largest and most dominant company.
It's already well on its way... The company has grown from the 169th-largest publicly traded company just eight years ago to the eighth-largest today.
But a little-publicized announcement late last month shows Tencent is already challenging its bigger rival's dominance. As the Wall Street Journal reported...
Apple is now allowing Chinese customers to use popular local mobile-payment system WeChat Pay for purchases in its App Store, underscoring the expanding reach of the service owned by technology titan Tencent.
Apple's decision to accept payments from the service came despite recent tensions with Tencent, including over the Chinese company's rollout this year of a "mini-program" system that has been seen as a competitor to the App Store.
"We are committed to offering customers across our ecosystem a variety of payment options that are simple and convenient," Apple said in a statement.

Apple has recently referred to Tencent as a "partner," and says it hopes to work with the company "even more" in the future. But the reality is Apple only agreed to this arrangement after its own mobile-payment system – Apple Pay – failed to gain traction in China.
In other words, it appears Apple has finally realized – and accepted – what Steve noted following his trip to China more than one year ago. As he wrote in the August 2016 issue of True Wealth (emphasis added)...
"Get the WeChat app, Steve," China fund manager Brendan Ahern told me as we hit the ground running in Beijing.
"Why?" I asked. "I don't need another messaging app."
"Because you can't do business in China without it," he said.
Steve is still incredibly bullish on Tencent today...
Even though his True Wealth subscribers are up 48% since March, and his True Wealth China Opportunities subscribers are up 55% since last September, Steve believes Tencent still has triple-digit upside over the next several years.
But if you don't yet own shares of Tencent, there's something you should know.
While Steve still rates Tencent a "buy" today, he has found even better and more profitable way to invest in this opportunity...
In short, it's a little-known way to own Tencent at a huge discount to what other investors are paying in the market right now. And it's available to virtually any investor... no matter your experience or the size of your portfolio. In fact, it's as simple as buying a stock.
This is Steve's favorite investment opportunity in the world today by far. But if you're interested in taking advantage, you must act quickly... Steve says it's only a matter of time before Wall Street catches on and this opportunity disappears forever. Get all the details
right here
.
Regards,
Justin Brill
Editor's note
: Steve recently found a way to buy Tencent at a big discount to 99% of regular investors. But this "anomaly" won't last forever. That's why Steve just released an urgent video presentation where he details everything you need to know.
Watch it here
.