Over the last forty-five days, we've run a competition in DailyWealth to find the best international investment idea.
My publisher will send me to the winning country this summer. I'll investigate the opportunity and recommend a way for DailyWealth readers to play it.
The competition closed last weekend. Today, we announce the results.
The prize for the winning submission is a rare book on racetrack betting called Secrets of Professional Turf Betting by Robert L. Bacon. This book is a cult classic among traders and stock pickers for its gambling strategies and observations on crowd behavior. It's long out of print. You can buy this book today on Amazon for $325 or wait for a copy to surface on eBay. Expect the bidding to start at $150.
We received over five hundred entries. The quality of entries was very high. I even suggested to my publisher that he send me on a three-year trip around the world to investigate every single one. He declined. I can't imagine why...!
We used three criteria to pick the winning country. We wanted a great story, we wanted profit potential, and we wanted a country with little investor interest.
We chose Tanzania.
Africa is the ultimate contrarian play. It's totally off the investment map. With the exception of the South African gold mines and Nigerian oil, Wall Street doesn't even know Africa exists.
Here's the story: The Tanzanian government is encouraging foreign investment. They are reforming business regulations, stamping out corruption and developing the tourist industry.
Tanzania is already wealthy and stable, but because it's so close to the Democratic Republic of Congo, investors aren't interested. Nearly four million people have been killed in the DR Congo in the last 10 years. They call it the African World War and it ended in 2002.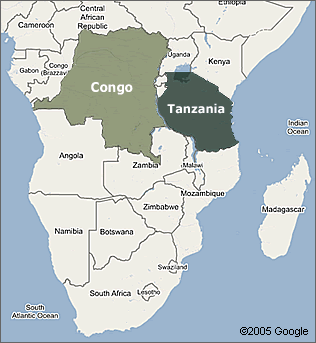 Here's the best part... there are several Tanzania plays on the U.S. and Canadian stock markets.
Two readers had the same idea. We drew the winner out of a hat. The runner up will receive received a free subscription to Steve Sjuggerud's True Wealth.
Out of hundreds of great ideas, Canada was the most popular suggestion, closely followed by India, Brazil and China. Panamanian real estate was also a common mention.
Here are some of the more interesting ones:
Sirs,
Now why would you exclude my current home of Baghdad, Iraq from consideration? I am certainly not the only DailyWealth reader here. I can even offer Tom accommodations in my hooch. The chow isn't all that bad, either.
Certainly there are investment opportunities here that a sharp-eyed analyst can spot.
Awaiting your consideration,
G. S.
Camp Slayer, Baghdad, Iraq
------------------------
Afghanistan
Poppy raising, opium, morphine, and heroin production, sales and
distribution.
There was no mention of the legality of the opportunity.
W. L.
Houston, Texas
-----------------------
A country that most investors won't touch with a 10-foot pole is the Philippines.
But, where else in the world can you buy a free-standing, single family home on a good sized block of land, in the country's capital city, right in the heart of the central business district -- just minutes walk from the stock exchange (not to mention high-end shopping malls, 5-star hotels, and dozens and dozens of good, reasonably priced bars, restaurants and cafes) -- for under US$150,000?
Or, a 1,000 square foot high-rise condo in the heart of the entertainment district in the same city for under US$60,000?
Here's definitely an asset class that is hated, ignored, and cheap, yet is now in the early stages of an up-trend.
T. S.
Makati City, Philippines
-----------------------
Thanks for participating... and for progress on my trip, keep an eye on DailyWealth...
In the meantime, I'm flying to Los Angeles tonight to attend the Learning Annex Real Estate Wealth Expo. They're paying Donald Trump $1.5 million for his one-hour speech. It should be a good gauge of sentiment in the California real estate market.
Full details to follow next week...
Good investing,
Tom