"Steve, when are you getting back into gold?"
I sold all my gold and gold stocks in July last year – and afterwards, I heard that question constantly.
My "not yet" on physical gold finally turned into a "NOW" this past January. And I'm still waiting for the right opportunity in gold stocks.
But today, I'll share a little twist to the story...
You see, a different precious metal could jump 34% in the next year, based on history...
Gold is up nearly 12% this year. But one indicator tells us that you might be better off buying silver today instead...
In February last year, the price of silver fell to its lowest monthly close versus gold in the past two decades. And today, silver remains incredibly cheap compared with gold.
At the end of October, gold closed at $1,271 an ounce, while silver closed at $16.72 an ounce. That's a gold-to-silver ratio of 76... one of the highest gold-to-silver ratios we've ever seen.
This chart shows that gold is trading at a huge premium to silver today...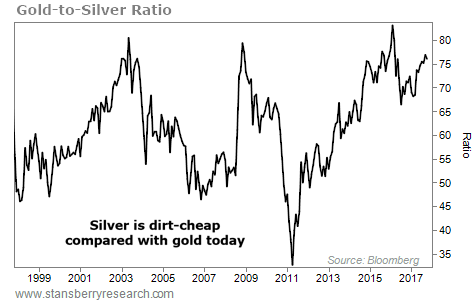 The gold-to-silver ratio historically moves between 50 and 70. That's why the 76 mark is so important... It means that right now, it takes 76 ounces of silver to buy an ounce of gold.
So what happens after times like these?
I looked back at each time the gold-to-silver ratio hit 76 or higher in the last two decades. It hasn't happened often. But it turns out, silver tends to soar after the gold-to-silver ratio reaches that kind of extreme. Take a look...
| | | | | |
| --- | --- | --- | --- | --- |
| | 1-Month | 2-Month | 6-Month | 1-Year |
| After extreme | 4.0% | 10.1% | 21.0% | 34.0% |
| All periods | 0.5% | 1.6% | 3.2% | 6.5% |

Silver has normally gone up 6.5% a year for the last two decades... But buying silver after extreme gold-to-silver levels meant those annual gains shot up to 34%!
That outperformance was consistent over shorter periods as well. History says silver could rise 21% in the next six months alone. (Still, to be fair, we don't have a lot of historical instances to go on.)
Don't get me wrong. I'm still buying gold. I believe it could go much higher from here.
But if the gold-to-silver ratio is useful as an indicator, silver could have more upside than gold today.
The simplest way to bet on higher silver prices is with the iShares Silver Trust (SLV). It's an investment designed to track the price performance of silver.
If you're looking to add precious metals to your portfolio, consider owning both silver and gold today.
Good investing,
Steve