I'm a little embarrassed by the penny stock secret I'm about to tell you...
In the past few months, the marketing team at Stansberry & Associates (the publisher of
DailyWealth
) has frequently mentioned my track record for picking stocks. Over the past 15 months, for example, I made 13 stock recommendations. The average gain is 68%. None of the picks lost money. Four of them rose more than 100%.
I'm embarrassed because I've spent 15 years in the investment industry. I've recommended plenty of losing trades. It's simply part of the game. Fortunes are made even being right 40% of the time, if you let your winners ride and cut your losers short. There's just no way I could recommend another 13 consecutive winning trades.
I'm also embarrassed because my company's marketers don't like to mention the source of my biggest winners. It's not because I'm using inside information like most hedge funds use... or anything illegal. But I wish I could speak and write more about my strategy. It helped me make 190% in Ashland... 125% in Massey Energy... and 140% in McDermott.
Problem is, almost anyone who tries to market this strategy goes broke.
The strategy? Buying "low-expectation stocks,"
buying value stocks
.
It's usually financial suicide to try to sell "contrarian" investment products. For instance, back in 1999, zero television personalities were hawking gold, like Glenn Beck is doing right now. You would have been wasting your time and money doing so. Nobody would have responded.
Back then, people just wanted a tech stock tip. Any money spent on television, newspaper, or Internet ads telling people why gold is a great investment might as well have been flushed down the toilet. Same goes for oil 10 years ago... or real estate in 2002.
It's a shame buying "out of favor" stocks doesn't sell well – because it's the single most profitable stock strategy in the world... and the safest.
I realize this sounds crazy. Everyone believes you should take on lots of risk to make lots of reward. But it's just not so. Let me show you how it worked with Massey Energy...
Massey Energy is one of America's largest coal producers. It's the largest producer in the Central Appalachia region. In 2008, it took the beating of a lifetime. In March 2009, I recommended the stock to my readers. Shares were down from a high of $93.38 to under $10. See the chart below for this huge decline: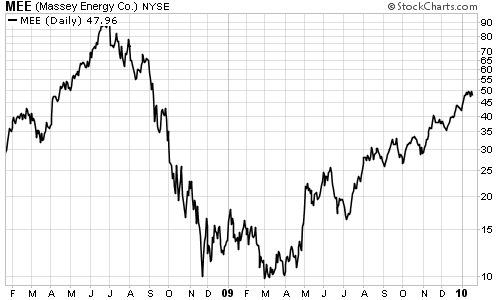 Now... go back to March 2009. Stock market sentiment was terrible. Many people worried the Great Depression Part II was upon us. Coal companies had it particularly bad. Months earlier, Barack Obama hinted he wanted to bankrupt the entire industry because of pollution.
Many people thought I'd lost my mind recommending a coal producer trading for around $10 per share. If there ever was a "low-expectation stock," this was one. It was easy to see no one expected much from Massey. The company was trading 50% below my estimate of fair value...
and 30% below the lowest analyst estimated target price
.
Nearly everyone who could possibly sell this stock had dumped their shares.
There were no sellers left
. That means there was almost no downside. It also means just the slightest bit of good news could send shares rocketing higher. At this point, shares were like a nervous cat. A little jab and it would jump four feet in the air.
You know the rest of the story. We didn't slip into a depression. Obama didn't bankrupt the coal industry. Stocks recovered. And Massey jumped 122% in two months. After correcting for a month, it then proceeded to climb 370% higher to where it sits today. All this from a stock that had nearly all of the risk squashed out of it.
I could tell you about three other recommendations just like Massey from my last 12 months of stock picking. But as I told you, this sort of contrarian trading bores people to death. Even if it bores you, just know it's one of the great high-reward/low-risk stock strategies in the world.
Of course, you can make money in the exciting
"hitch a ride" stocks
I described yesterday. But as I mentioned, these situations are tough to come by. It's hard to find small, undiscovered stocks in the "sweet spot" to benefit from a huge product, like Apple's iPhone.
But good, sometimes great companies take big short-term hits to their share price dozens of times per year. These hits hammer out the risk. They create situations where assets are selling for 30% less than even the most pessimistic analyst. And just a slight hint of a turnaround can propel them to hundreds of percent gains in months.
Buying a coal, chemical, or candy company when everyone hates it is nowhere near as exciting as a big tech story. You might even be embarrassed to talk about these sorts of trades at a cocktail party. I'm fine with that. It's less competition for me. But as I'm planning to show thousands of people in the coming years, it's a sure way to make big returns in stocks.
Good investing,
Frank Curzio
P.S. I'm recommending my readers look into one low-expectation stock in particular right now. Expectations for this company are so low, in fact, there's little chance it could disappoint. And the three problems that have held shares down over the past two years no longer exist.
All we need is a sign of a turnaround in this business – which I expect to see soon – and this stock could easily double from here. You can learn more about this idea in my new investment advisory,
Penny Stock Specialist
. Learn about a trial subscription
here
.