"Fill up your gas tanks," the oil executive warned me.
"Fill up your gas cans, fill up coffee cans, and fill up any empty containers you have."
According to my friend Dave (real name withheld to protect anonymity), a 30-year veteran of the refining industry, gasoline prices are about to go up... a lot.
Hard as it may be to believe for people spending $75 to fill up their SUVs, gasoline is actually cheap right now. It hasn't kept up with the soaring price of oil. This is a terrible situation for refineries. Since oil is the main expense of an independent refinery, business can't get much worse for them right now.
"We're only making money on diesel these days," Dave told me. "Our oil costs, even for the cheap stuff, are so high it's killing us."
My friend is getting killed because high oil prices drive down profit margins for the refining industry.
ConocoPhillips, which produces petroleum and converts it to gasoline and other refined products, had a terrible first quarter, mostly due to low refining margins. U.S. independent refiner Tesoro – which must buy the oil it refines – lost $86 million at just one facility in the fourth quarter of 2007... after earning $19 million the previous three months. Since November, Tesoro shares have been sliced in half.
Most investors would look at this depressed situation and run. But I see this as a huge opportunity...

You see, the prices of oil and gasoline share a tight relationship. The difference between the two is commonly called the "crack spread" ("cracking" is the industry term for refining crude oil into products like gasoline).
Rarely does the price of a barrel of oil cost more than an equal amount of gasoline. It doesn't make sense. That's like a bushel of wheat becoming more expensive than the bread you could make from it.
But exactly that happened in March of this year. Take a look at this chart...
The Crack Spread Is Going From Bad to Less Bad for Refiners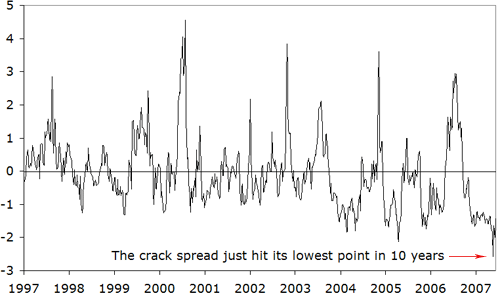 This chart compares the price of a gallon of gasoline to a gallon of crude oil. In current dollars, the average crack spread has been roughly 1.25 – meaning for every dollar a refiner spent to buy oil, it profited 25 cents.
The line at zero represents that average. Whenever the spread is greater than zero, refiner margins are fat and the companies are raking in profits. When the line falls below zero, times are tough. Most of the time (nearly 70%) the spread never strays beyond plus or minus 1 on the chart.
As you can see, the spread is near its lowest point in the last 10 years. It's currently at -1.15 and has been as low as -2.39 in recent weeks – grossly out of whack. Simply put, things just can't get any worse for refiners... which means things can only get better. I think they'll get much better...
The summer driving season is coming. When kids are out of school, families love to pack up the minivan and drive to the mountains... or the beach... or the lake. It's as American as the New York Yankees.
I think refiners are going to use this opportunity to eke out a bit more margin than they made this winter. The price of gas is going up anyway (it has to), so why not tack on another nickel or dime per gallon for the house? Who's going to notice an extra 10¢ when gas is selling at $4 per gallon?
That may be rough on drivers, but it's great news for investors... A small improvement in the refiners' margins makes a huge difference in profits. And refiner shares directly reflect the change in margins. When refiners jack up the value of their products, their shares take off.
The gains can reach 30% in a matter of months. But remember, the spread is near its lowest point in the past decade, so gains from the coming rally could be even higher than times in the past.
It's a pretty short list of stocks to play a refiner rally. The largest pure player by far is Valero, with Tesoro, Sunoco, Holly, Western Refining, Frontier Oil, and CVR Energy representing a few other opportunities.
Remember one of the big themes here at DailyWealth. You make the biggest returns when things go from bad to "less bad" in the market. Steve even calls it the "Secret to 1,000% Gains." That's the situation we have in refiners, which makes it the best speculation in the energy market right now.
Good investing,
Matt