First, a riddle:
This asset is popular when all other assets are going down.
The market for this asset is the most liquid in the world.
Although every person in America owns this asset and wants more, it's less popular than it has ever been before.
What is it?
Here's a hint: In 1981 – after 15 years of stagnant stock prices – this asset represented 77.1% of all mutual fund assets.
In 1999, when stock market optimism was at its strongest, this asset represented only 23.7% of all mutual fund assets.
Today, investors hold about the same percentage of this asset as they did in 1999. As of October 2007, this asset represents 24% of all mutual fund assets.
Perhaps by now you've guessed the solution to the riddle. The least-popular asset in America, yet the one thing people can't seem to get enough of, or get rid of fast enough, is...
Cash.
Right now, according to Investment Company Institute, the public is close to the lowest cash balance it has ever had relative to other investments. The ICI keeps detailed statistics on the assets the mutual fund industry controls. You can look up these statistics at http://www.ici.org/.
But you don't need statistics to figure this out... just look around you. Do you see your neighbors saving money, or did they just buy a new Hummer, condo, or vacation? Would they be more likely to buy a house or open up a new savings account?
Nope, no one wants to hold onto cash.
I love hated investments. This is one reason I like cash. It's such a contrarian investment.
But I have a more specific reason for liking cash. It's Jason Goepfert's "mutual fund cash indicator." When this indicator flashes a signal, the stock market declines 4% a year on average versus cash. The cash investment I'm going to recommend to you in a minute pays a 4.5% interest yield. Therefore, by following this system, you can expect to earn 8.5% a year on your cash – relative to stocks – whenever the indicator flashes.
The indicator is flashing right now...
Here's how Jason Goepfert's indicator works:
Cash is a safe haven. So if you look at the assets the American public holds in cash versus stocks and bonds, you get a good indication of the public's sentiment. When cash balances are high – as they were in 1981 – the public is afraid of investing, but it has lots of spending power. This is a good time to spend cash and buy stocks.
When cash balances are low – as they are now – the public is comfortable investing in stocks and bonds, but it doesn't have any firepower. This is a good time to raise cash and sell stocks.
This system is too crude to be of any use, even with the detailed statistics from ICI. Interest rates are the problem. They distort cash levels. Investors tend to keep more money in cash when interest rates are high. When interest rates are low, low cash balances make more sense.
So Jason stripped out the influence of interest rates on mutual fund cash balances using statistical modeling. In short, he figured out a normal level of mutual fund cash holdings at every level of interest rates.
Right now, the cash held in mutual funds is 2% below where it should be given today's interest rate levels. In the past, a 2% deficit has signaled average stock loses of 4% a year. Here's what this looks like in a chart: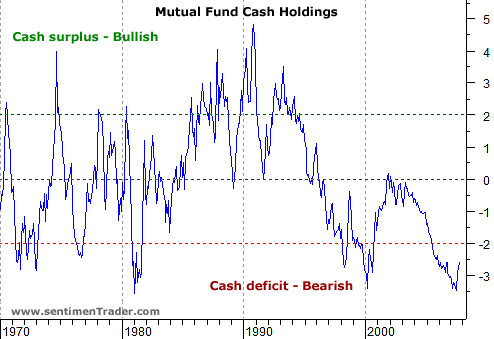 My favorite investment in cash is the Lehman 1-3 year bond fund ETF (SHY).
SHY is the safest investment vehicle on the planet after gold. It's a fund of short-term bonds issued by the United States government. Short-term United States Treasury bonds are the most liquid assets on the planet. They are as good as cash. SHY pays a 4.5% dividend.
In sum, if you're looking for a safe place to park your money – or speculate on increased demand for cash – you should consider investing in SHY. I expect it will beat stock market returns by 8.5% a year until mutual fund cash balances return back to normal levels.
Good investing,
Tom
P.S. Jason Goepfert runs sentimenTrader.com. This website is absolutely the best source for sentiment indicators. Steve and I follow Jason's put/call ratios, volatility indices, investment manager surveys as well as hundreds of other indicators Jason created. You can check his site at
www.sentimentrader.com
.