The name "Nifty Fifty" came to represent the "one-decision" stocks of the early 1970s.
They were the Cokes and the Disneys of the world... Fifty names you always bought simply because you couldn't go wrong owning them. Or so investors thought...
Believe it or not, these "boring" names soared in the early 1970s, reaching a dot-com style peak in 1972.
In 1972, Coke sold for 46 times earnings. And Disney was even more expensive, at 71 times earnings. Then, both stocks lost three-quarters of their value in two years. And these are just two examples. Similar losses occurred throughout the Nifty Fifty.
Looking back on the situation,Forbes magazine said:
The delusion was that these companies were so good, it didn't matter what you paid for them; their inexorable growth would bail you out.
Obviously the problem was not with the companies but with the temporary insanity of money managers – proving again that stupidity well-packaged can sound like wisdom. It was so easy to forget that no sizable company could possibly be worth over 50 times normal earnings.
But investors soon forgot what Forbes said about earnings, and history repeated in 1999. Coke and Disney soared to over 40 times earnings. Once again, people thought these companies were so good it didn't matter what you paid for them. But once again, they were wrong...
Today – nine years later – the share prices of Coke and Disney are down. But business at both has grown dramatically... meaning it just might be time to pile money into the Nifty Fifty stocks again...

Even though its stock price is lower, Disney earns 3.5 times as much as it did in 1999. And Coke's earnings have doubled.
So with earnings soaring, and the stock prices stagnant, these old Nifty Fifty shares are now cheap again – Disney sells for a price to earnings (P/E) of 13.6 times forward earnings and Coke for 17.
It's not just Coke and Disney... Earnings for the New Nifty Fifty Index (NFT on www.bigcharts.com) as a group have increased by over 100% since 1999... But the index is down since 1999. As a result, valuations have been cut in half... They're cheap!
To explain just how cheap, Bloomberg lists the forward P/E ratio of the overall stock market at 16.25 (that's the S&P 500). But the forward P/E of the New Nifty Fifty Index is only 12.79.
It's hard to believe the Nifty Fifty won't return to a premium to the overall market for one simple, brutal reason: Most companies won't be around in 25 years. But I'd sure bet that in 25 years, families will still take their kids to Disney. And folks will still drink Coke.
I sincerely believe that, after nine years of terrible performance, the New Nifty Fifty stocks will beat the overall market over the next few years, as they simply work their way back to a premium to the overall stock market.
However, I can't fully endorse buying up all these household names just yet. As you can see from this chart of NFT, the uptrend just isn't there yet.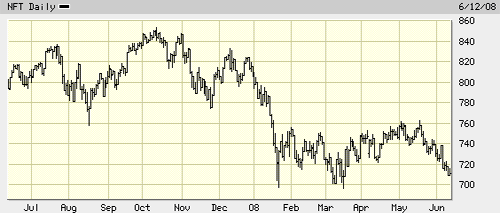 So, do I believe it's time for the New Nifty Fifty to soar again? Yes. We should be just about there... But wait to see the uptrend before jumping in.I have been burned fighting the trend in the last year. I won't buck it.
Good investing,
Steve