"I would have been a rich man, if it hadn't been for Florida." – Henry Flagler
They said it couldn't be done. Taking it on would be the equivalent of trying to put a man on the moon in the 1950s. It would require the sum total of all human ingenuity and cost a fortune.
But Old Man Flagler didn't care. This was his third career. As one of the richest men in the world, and at 75 years old, what else did he have to accomplish?
For his first career, young Henry Flagler co-founded Standard Oil with John D. Rockefeller. It brought him enormous wealth, but he was thought of as a robber baron.
His second career brought him positive fame. He literally put the east coast of Florida on the map. He was instrumental in the development of places including St. Augustine, Daytona Beach, and Palm Beach.
(For example, before Flagler came along, there literally was no Miami. It was a small settlement called Fort Dallas. The roughly 300 residents were so thankful to Flagler for bringing in the railroads, ports, hospitals, churches, schools, a water system, and power infrastructure that they wanted to rename the town "Flagler." Henry suggested an old Indian name, "Miama" instead.)

Then in late 1800s, he decided to go for the unthinkable. He wanted build the "Over-Sea Railroad," continuing his Florida East Coast Railroad all the way to Key West. Nothing like it had ever been attempted before. There were stretches of ocean as much as seven miles wide that he would have to get a rail car across. Why even consider such a thing?As part of the development of Florida, Henry Flagler had put together a railroad from Jacksonville to Miami, called the Florida East Coast Railroad. It still exists today, trading on the NYSE with the symbol FLA.
There are a few legitimate explanations...
Key West was actually Florida's biggest city at the turn of the century, with some 20,000 residents. More importantly, it was the U.S.' closest deep-water port to the Panama Canal, which was starting to be built. Flagler thought that Key West could take advantage of trade with Cuba and the rest of Latin America, as well as the western U.S., via the canal.
While these may have been true, it's hard to see the benefit justifying the enormous expense. I personally think Old Man Flagler did it just to see if it could be done – just to see what human beings are capable of.
The project was initially called "Flagler's Folly," as it ate up what would be hundreds of millions of dollars in today's money and the workers suffered terrible hardships. But it was completed in 1912, and Flagler rode the distance of it the day it was completed. It became known as "The Eighth Wonder of the World."
Flagler died the next year at age 82, but he completed his goal of riding his creation to Key West. He could have died a rich man. Instead, for (what I think was) no good reason other than to see if it was humanly possible, he made an extraordinary lasting impact on the state of Florida. Two statues of Flagler went up in 2006... one in Key West, where the railroad terminated. And one on the steps of the Miami Courthouse, on Flagler Street, the road that divides North Miami from South Miami.
Unfortunately, the Eighth Wonder of the World was knocked out by the "Storm of the Century" in 1935, the most powerful hurricane ever to hit the U.S. The federal government bought the rail line from Miami to Key West for a pittance, and turned it into a road for cars, using much of Flagler's original work.
I'm writing to you from the Florida Keys today. When you're here, you can see the absolute immensity of the Flagler undertaking. While here, I read this remarkable story in the book: "Last Train to Paradise: Henry Flagler and the Spectacular Rise and Fall of the Railroad that Crossed an Ocean" by Les Standiford. It's a good read.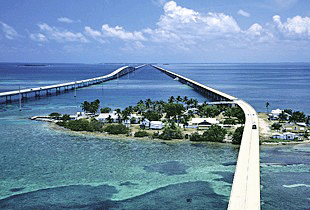 Flagler's 8th Wonder of the World on the right (which has been cut for ships to pass, and is no longer passable), and the new 7-mile automobile bridge.
Right after I finished this book, I picked up Wired magazine. In it was an article about Dean Karnazes – a name I remembered from windsurfing magazines 10 years ago as a guy who took on crazy winds and waves. Apparently, Mr. Karnazes has taken to distance running...
Dean entered a 12-man, 199-mile relay race – by himself. He later ran 350 miles without sleeping. And a few months ago, at age 44, he ran 50 marathons in 50 days in 50 different states, finishing in New York. Then he ran home – to San Francisco.
"Somewhere along the line, we seem to have confused comfort with happiness," Dean Karnazes told Wired magazine. "Life is not a journey to the grave with the intention to arrive safely in a pretty and well preserved body... but rather to skid in broadside, thoroughly used up, totally worn out, and loudly proclaiming: Wow! What a ride!"
I don't have any plans to build bridges or run across the country. My goals are much humbler in 2007. But these stories of simply trying... of pushing the limits of the human body, mind, and spirit just to see what's possible, are interesting to me.
Also they make my goals for 2007 seem wimpy... But they also seem much more achievable now, too...
Have you set your goals yet for 2007? Now's the time...
All the best in 2007,

Steve