Whoa... the Japanese property market is hotter than I imagined.
A tiny improvement in the real estate market is all you see in the government statistics. A tiny uptick in the price of buildings. A tiny uptick in rents. In the U.S., we'd call it unimpressive, at best.
But these tiny improvements miss the real picture of what's going on here...

It's all about "the spread."On Tuesday, I talked about the "kerosene" of low interest rates and what it could do for real estate market here. It's happening, and fast.
Armed with trillions of yen to spend, sophisticated private investors are taking on debt and buying all the top-notch (Class A) office buildings in sight. They're taking advantage of the huge spread between what it costs to borrow (which is next to nothing) and what you can earn in rent.
They're buying up the real estate stocks that hold Class-A office buildings as well. So far, they've been willing to pay any price as long as the spread stays large. The chart below is proof of that. These boring Japanese real estate stocks have made investors triple-digit gains since REITs first appeared in Japan: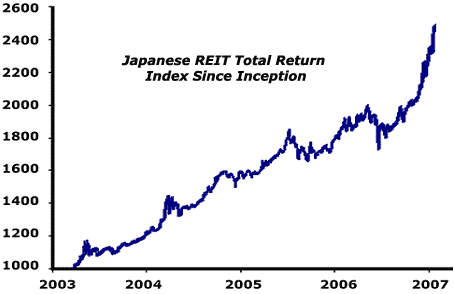 There are more gains to come. The low local interest rates, along with the low supply of Class-A office space and the paucity of land left to build on in Tokyo, make the sky the limit for prices.
Also, rents still have plenty of room to rise... If I heard the numbers right, rent in Class-A office space is more than five times more expensive in New York than in Tokyo. And rent is more than 10 times higher in London than in Tokyo.
If rents go up, then the spread will widen... and big investors will pay even higher prices for the buildings.
The problem, as you might guess from the chart above, is that the stock prices for companies that own high-end office buildings may have run ahead of themselves. The 10 largest Japanese REITs now trade at a laughable 70% premium to their net asset values (their liquidation values).
However, there is one sector of Japanese real estate stocks that is still cheap... the real estate stocks that own apartments in Tokyo.
I recommended my favorite one recently in my newsletter Sjuggerud Confidential. And I will likely be visiting another one that looks very attractive in Tokyo this week.
In general, I'm excited about the opportunity here. It is the 15-year, one-way bet. And it's clearly getting underway right now. You just have to be careful how you play it, so you don't pay a 70% premium to what the buildings are worth now.
In coming issues of DailyWealth and my newsletters, I'll share more with you from Japan.