The price of food is skyrocketing... and it's starting to cause problems.
"China orders crackdown on food hoarding," says a headline in last month'sInternational Herald Tribune.
In December, the Chinese prime minister ordered the sale of huge emergency supplies of rice and wheat in order to put downward pressure on food prices.
Not only are rising food prices causing China's inflation rate to ramp up to the fastest pace in almost two years, they're also causing social unrest. Some 150 million people in China still live on less then $1 a day...
When food prices rise, these people starve.
Mexico is facing similar problems. If you believe the official line, tortilla prices rose 14% last year. The real situation could be much worse. In one northern Mexican state, a kilo of tortillas has risen from six pesos to 30 pesos since November. That's a 400% increase in two months!
Corn tortillas are a staple food in Mexico... in other words, tortillas are a significant daily expense for more than half of the Mexican population who live in poverty.

Then last week, 70,000 protesters marched through Mexico City waving tortillas and taunting the president.Last month, a huge angry mob of housewives vented its frustration at Mexico's President Calderon. He was making a public appearance... and they pleaded with him to do something about the soaring tortilla prices.
The problem here is simple. The United States is the world's largest exporter of corn, and many nations rely on U.S. corn for food... Japan, Mexico, Taiwan, Canada, Egypt and Colombia are all big corn importers. According to statistics at the National Corn Growers Association, the United States grew 42% of the world's total corn crop last year.
World Corn Production 2004/05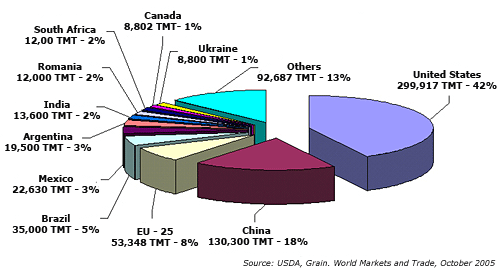 Here's the thing: According to BusinessWeek, ethanol production will consume half of the United States annual corn harvest by 2008.
In other words, the craze for biofuels is about to chew up 20% of the world's corn harvest.
Corn is up 14% already this year... and up 100% in the last six months. Given how important corn is, it's not surprising all the major newspapers and magazines are writing about it.

In conclusion, I'm definitely a long-term bull on food prices, and I think the civil strife in places like Mexico will get a lot worse before it gets better. But for now, I'm happy to wait for a shakeout and watch the action from the sidelines.Thing is, as a potential investor in corn, all these headlines are making me nervous. I've learned over and over again that when an investment starts to look like a one-way bet, it's probably about to go down. Add in the fact that the corn price has risen in a vertical line for the last six months, and the market starts to look really dangerous.