Last month, I asked True Wealth readers to take away just one thing from our first issue of the year...

Specifically, I said that, "If you feel uncomfortable about making a trade, that's quite normal. I have found that when the market feels safe... that's often when it's the most risky. And when it feels risky, that's often the best time to buy... you're able to buy cheap because nobody else will."

Investing is simply about the weight of the evidence. And just as the weight of the evidence was incredibly compelling to buy stocks aggressively last summer, the opposite is true today.

It's a bit like the weather was in earlier January... We should have had cold weather on the East Coast, but instead we had day after day approaching 70 degrees. People were lulled into thinking that somehow "this winter will be different." But winter sure has came, as it always does. (I even had to work from home yesterday, as our office heat just wouldn't do the job).


Right now, the stock market appears as cozy as the weather had been... It feels safe. There are many reasons it feels this way... But let's take a closer look, though, by examining one traditionally volatile area – emerging-market stocks...

I do believe in emerging markets for the long run... and there are times when you can make hundreds of percent here. But we won't make money in them now.

Right now, investors see emerging markets as a one-way ride – up. You can hardly blame them. When you look at the chart, from 2003 through now, you see that it has been a smooth ride up... by about 200%!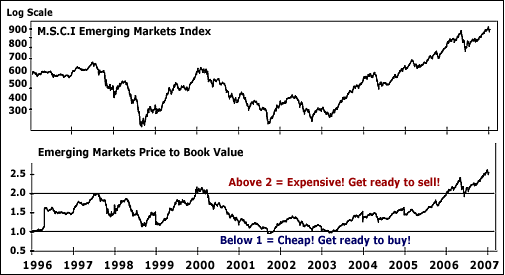 Naturally, the money has flowed in... In 2005, more than $100 billion flowed into foreign-stock mutual funds. And for 2006, that number is closer to $200 billion! For comparison, the flow into U.S. large-stock funds last year was only about $6.4 billion.
Meanwhile, stocks in emerging markets are more expensive than they've ever been... Big money coming in and expensive stocks are a dangerous mix. When those speculative dollars get scared – and they will – the bottom will fall out of these markets. I've experienced it. It is terrible.
Twice in the last decade, investors got excited about emerging-market stocks like this. They bid them up to a 100% premium over book value (shown as "2.0" in the chart). Immediately after reaching that premium, emerging-market stocks promptly lost about 50% of their values.
Once people finally believed that emerging-market stocks were a one-way ticket up, they got crushed. What's scary is, the money that flowed into emerging markets those previous times was only a tiny fraction of how much money is pouring in today. When the tide of money flows out, chances are the losses will be much worse.
Also twice in the last decade, investors got so despondent about emerging-market stocks, they drove the stocks down to less than book value! At that time, investors were assuming that emerging-market companies were hopeless and would never grow, ever again.
As you might guess, if you had bought then, when investors were fearful and emerging-market stocks traded close to book value, you could have made extraordinary gains.
To sum up this investment class, we've reached a record level of speculation... both in terms of dollars thrown at emerging markets (many billions) and in terms of overvaluation. Emerging-market stocks are now trading at a record 150% premium to their book values.
Could stocks in emerging markets go higher from here? Absolutely! Am I willing to buy emerging-market stocks now? Absolutely not! It's the weight of the evidence... chances are more likely for a 50% fall than a 100% increase.
We'll definitely be buyers in emerging markets again someday... just not now.