How Do I Explain This One to My Wife?
That was the title of DailyWealth on January 9, 2006.
Back then, I was on a typical research trip... but I did the atypical...
I was in Tennessee to visit a potential recommendation – the zinc and lead producer Zinifex (Shares of Zinifex doubled in 2006, and subscribers ultimately made good money on my recommendation).
The trip to Zinifex's smelter was the typical part. What happened next was atypical...
Before heading to the airport, I stopped into Gruhn Guitars in Nashville. George Gruhn is the king of vintage guitars. I didn't mean to, but I left the store with a $13,000 acoustic guitar... a nice Martin from the 1930s made out of Brazilian rosewood. I understood the value, and it was too good to pass up!
It may sound preposterous... $13,000 for an acoustic guitar. But today, that guitar would sell for $30,000 or more. I bought it less than two years ago... So I've more than doubled my money in two years.
Back home, at any cocktail party in early 2006, all the talk was still about real estate. "You simply can't go wrong in real estate around here," people said. Everyone nodded his head in agreement.
I didn't talk much about it at cocktail parties. People would have thought I was crazy. But instead of buying real estate, I was buying collectibles, including vintage guitars. While real estate has tanked, high-end collectibles have soared, as my Martin purchase shows.
So maybe you'll understand why I'm writing to you today from another atypical place...
I'm holed up with my laptop in a back office at the repair shop at Randy Wood Guitars. Randy just restored another 1930s Brazilian rosewood Martin for me (this one needed a new top), and I'm here to pick it up.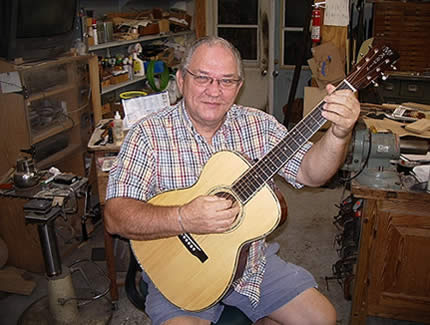 The legendary Randy Wood, putting the
finishing touches on my 1930s Martin
Randy's shop is outside of Savannah, Georgia... way out of the way for me. But he's worth the trip. He was George Gruhn's partner 40 years ago, and he's been repairing and building guitars since. The Rolling Stones, Eric Clapton, you name 'em, he's worked on their fine guitars. For example, Randy did the pearl work on Elvis' guitar... Do you know the black guitar that says "Elvis Presley" in pearl on the fingerboard? That was Randy's work.
You don't have to spend the kind of money I did to get something fantastic. In many cases, you can get a nicer guitar than a new one, for less money. Even better, the old one is rare, and the new one is a dime a dozen.
Of course, when it comes to collectibles, you want to buy the very best you can afford. Randy has a few gems in his shop now. The top of the rock is a 1936 Martin D-28, owned by someone famous. It doesn't get much better than this.
Today, Martin actually makes a copy of this 70-year-old guitar... The new one's a "D-28 Authentic 1937" guitar. Martin is trying to mimic exactly what it made in its Golden Era. The new Martin is the same guitar at Randy's, without the 70 years of "mojo" or having been owned by someone famous. Yet Randy's asking price is only 25% above the current list price of the 2007 replica.
While I don't expect you to run out and buy a vintage guitar, I do think you ought to keep an open mind when it comes to things that can go up in value... If you watch CNBC and read the investment magazines, you might think that stocks and real estate are the only things worth considering. It's simply not true. Real estate has tanked, while fine art and fine wines in particular have soared in value.
I see my old guitars (and other collectibles like stamps and coins) as simply yet another way of diversifying my assets – owning some real assets that will hold their value. Sure I own stocks, bonds, and real estate as well. But then I am willing to veer off and consider other things where I see obvious value.
High-end collectibles (like old Martin acoustic guitars) in excellent, original condition hardly ever decline in price. It may sound hard to believe, but it's true.
That's generally the way it goes in the collectibles world... you buy the "beachfront property" that's always desirable, and it generally trends higher. It keeps going up for a variety of reasons... it's beachfront property, it's in limited supply, yet demand steadily increases as the number of wealthy people who can afford it increases.
Collectibles can be fun to own, too... As a guitar player, I actually get to enjoy playing the thing, instead of seeing it on my brokerage statement every month. And hey, if wine is your thing instead, you can drink the bottles that go down in value. The point is, you've got benefits beyond the financial ones.
Again, vintage guitars may not be your thing. But you really ought to open your eyes and consider diversifying into some type of fine collectible that is interesting to you...

My wife didn't believe me when first brought home that Martin, but now she does.

Good investing,

Steve

P.S. Randy always has a few cool old guitars in the shop. And he also has a few of his own one-of-a-kind custom instruments available, which is rare. They're usually spoken for before they're finished. They're worth a look.

You can e-mail Randy directly here.

A close up of the fingerboard of an intricate, one-of-a-kind Randy Wood ukulele that's for sale: "I just did that one for fun," he says.