Picture Miami: the palm trees, the sun, the warm weather, and the wealth.
Now lower the humidity, add Arabic to the signs, clean up the city considerably, invest $100 billion, and you've got Dubai.
Dubai is stunning. The buildings are all less than seven years old and represent the efforts of the world's finest architects. The Burj Dubai, currently scheduled to be the world's tallest building, is less than half complete and already dwarfs the other skyscrapers. Designed by Skidmore, Owings and Merrill - the same firm that designed the Sears Tower in Chicago - the Burj Dubai's architecture is striking: The base is modeled after a three-petalled flower native to the region.
Other luxury construction efforts include an indoor ski slope, three manmade peninsulas in the shape of giant palm trees, and "the World": 300 manmade islands arranged in the shape of a globe and costing between $15 million to $45 million a pop.
It's a stunning example of what can happen to a city when it opens itself to foreign investment. Prior to the 1950s, Dubai was a small fishing town, with three hotels, a four-lane main drag, and little economy to speak of. Fortunately, the emirate had a visionary in then-leader Sheikh Rashid bin Saeed Al Maktoum, who dredged the region's primary river using borrowed capital from Kuwait in the late 1950s.
With a river wide and deep enough for commercial shipping, Dubai became a primary trade port… eventually capable of docking 16 ships at once. The development made Dubai the Chicago of the Middle East, bringing in an economic boom similar to what the Windy City saw in the late 19th century.
Between 1956 and 1968, Dubai's population nearly doubled. However, it wasn't until 2002 when Sheikh Rashid's third son Sheikh Mohammed bin Rashid Al Maktoum allowed foreigners to buy land in certain regions of Dubai, that the economy exploded.
In less than six years, Dubai underwent a complete transformation from semi-desert to cosmopolitan metropolis. Under Sheikh Mohammed's leadership, downtown Dubai sprang up, and its main strip, the Sheikh Zayed Road, grew from four lanes to 12.
Similarly, Sheikh Mohammed created the idea for Dubai Internet City and Dubai Media City: Two of Dubai's "free" zones in which foreign companies can buy land and operate without paying corporate taxes. By forcing international companies to all set up operations within a particular region, Dubai manufactured its own tech boom. Today, Microsoft, Oracle, IBM, HP, NBC, Reuters, CNN, and CNBC are all located there.
Entire cities have erupted out of the desert. On Wednesday, I drove through New Dubai - the latest residential free zone. Try to imagine an area the size of downtown Baltimore completely under construction. The below picture is one of 30 I took, all looking the same. I finally just gave up trying to capture what I was seeing on film. No one would believe it anyway.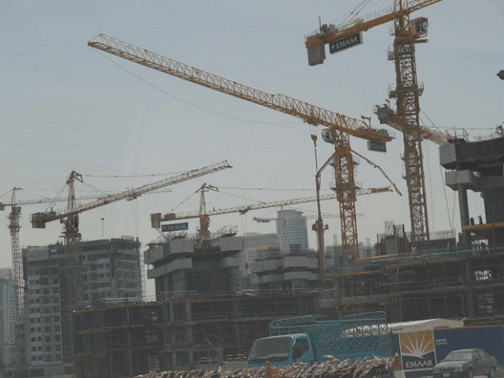 It's beyond eerie: A ghost town where no one has moved in yet. Even more incredible is the following statistic: Between 15% and 20% of the world's construction cranes are at work in Dubai.
Dubai's GDP grew an unbelievable 16% in 2005. Tourism generated nearly a third of the growth, outpacing both energy and real estate. Last year, Dubai hosted more than 6.5 million visitors, generating $3 billion in revenue. Today, tourists outnumber residents by a ratio of 5 to 1.
Plans are in place to build another airport - Dubai's third - that will feature 16 runways. Not gates, runways. Developers are planning to build around the airport another 850 high rises: four times the number in downtown Atlanta.
If you think this sounds impossible, you're not alone. But as my contacts here have stated time and time again, "Everyone's been shaking their head in disbelief for 50 years here. And so far the sheikhs have proven us wrong every time."
Dubai is a fantastic example of how markets can flourish when governments are investor-friendly. I've been here researching investment opportunities all week. I'll be reporting some of my findings in my Inside Strategist newsletter.
Good investing,
Graham
P.S. I'll also be writing my Dubai findings in DailyWealth's sister publication, the Growth Stock Wire. Click here to sign up for a free subscription.