"If we're right, we'll make a fortune. If we're wrong... We'll still make a heck of a lot of money, safely."
In the latest issue of my newsletter True Wealth, I'm recommending Icelandic bonds. I don't usually recommend investments as exotic as this. But when the opportunity is this good, you've got to be willing to figure out how to do it...
Talking about the potential for annual returns in this investment, I said:
"We'll make 10% in interest in 2007 and 2008. We should make double-digit capital gains... and if we see a further fall in the dollar, we could have significant currency gains as well. It wouldn't be impossible to see 25% a year... for the next three years!

I think this bond will beat all other government bonds over the next eight years. If you're looking for a safe place to put money outside the dollar that still has significant upside, this bond is it."
In the last month, Iceland's currency has been beaten up. Danske Bank, a Scandinavian bank, warned of a financial crisis in the country. After investigating, I'm not worried. Iceland's fundamentals are sound. (I've put links for more information at the bottom of this letter).
In short, I think Iceland's currency (the krona) generally behaves like a euro. However, it got overvalued recently, as foreign speculators became attracted to Iceland's high interest rates. At the first sign of trouble, these speculators are leaving. It's as simple as that.
This chart really tells the story:
Iceland's currency: Just a Euro, that got overvalued?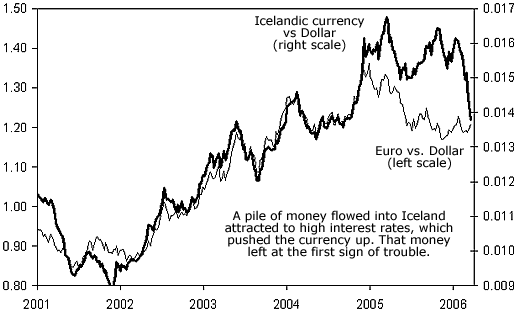 Once the currency settles down, I really do believe certain Icelandic bonds will be the best bond plays in the world for the next eight years.
If you've gotten in recently, don't get rattled. Hang in there.
As I explain in the latest issue of True Wealth, there's a great new reason why Iceland's currency will "converge" with the euro once again someday. And it could make you a lot of money...
I can't say it any stronger than I did in my issue: "If you're looking for a safe place to put money outside the dollar that still has significant upside, this bond is it."
Good investing,
Steve