"The mold smelled so bad, we had to wear face masks in the office."
We spoke to the CEO of a company headquartered in Jefferson Parish, New Orleans on Tuesday. Hurricane Katrina flooded his office building.
"It's like working inside of new construction. The only difference is that the roof is on and we're running a business out of here."
While the office was closed in August and no one could come back, the mold grew. With the help of 98-degree heat, it ruined everything. They had to pull up rugs, remove sheetrock from the walls, throw out the furniture, and rewire the building.
"And that's typical of thousands of homes and businesses that had water intrusion," he said.
The loss should be insured. His business is claiming lost inventory, property damage, content damage and vehicle loss.
Katrina destroyed 275,000 homes in Louisiana, Mississippi and Alabama. It damaged over a million more. For reference, the San Francisco earthquake of 1906 destroyed 38,000 homes.
"You'd see big piles of carpet, furniture and ruined refrigerators in front of every house," he said, "and mattresses as far as the eye could see."
Buy when the blood runs in the streets, as Rothschild's famous investment mantra goes...
Buy insurance stocks when mattresses line the street, say we. In other words, right now is the perfect time to invest in insurance companies, for two reasons.
1) The Prayer Theory
People are more likely to pray when trouble comes around. When everything is fine, they become complacent and stop asking for help. But life is cyclical. Good times follow bad, and vice versa. So wouldn't it make more sense to pray when things are going well?
The same is true with insurance. When there hasn't been a hurricane for ten years, no one feels like insuring their house. Then a few ugly years come. Now everyone wants insurance... when they probably won't need it.
This year has been beastly. Five hurricanes struck the US coastline, of which 2 were major. This is the worst year on record. So far this decade, there have been 14 hurricane strikes. Five were very strong. Insurance companies took a direct hit.
But look at this chart of hurricane frequencies of the last century. The numbers move in cycles. In fact, since 1851, the average number of hurricanes per decade is 17.7. The average number of "very strong" hurricanes is 6 per decade. Next year may be worse, but I wouldn't bet on it. I see mattresses in the street...the cycle has likely peaked. In which case, insurance companies will have fewer claims to pay in the future.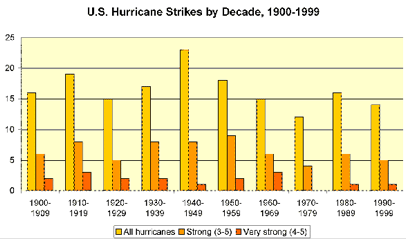 2) Increased demand at higher prices
Insurance companies with hurricane exposure will see increased demand for their products at much higher prices. A commercial insurance agent I spoke to yesterday confirmed this. "We're seeing 10-15% rate increases along with higher deductibles," he said. "If they have a previous claim history, rates may move up as high as 30-40%. Same story with the deductible."
Additionally, Louisiana Parish councils are reviewing building codes and enlarging flood zone boundaries. They want to make flood insurance coverage compulsory for property owners in these new zones.
Just one of these reasons would be enough to send catastrophe insurance stock prices higher. But taken together, we have the potential for dynamite.
My colleague, Dan Ferris, recently recommended several well-managed hurricane-exposed insurance companies to his Extreme Value readers, one being PXRE Group (PXT).
The stock price of PXRE Group was clobbered by the strong hurricane season. If you already read Extreme Value, you've probably taken a position to profit from the coming rebound in insurance companies like PXRE.
If not...it's still time to buy. When mattresses line the street.
Good investing,
Tom