Gold closed at a new all time high last week, settling at $1,259 an ounce on Tuesday...
Gold is up 15% this year, 44% since the start of 2009, and 353% in the last eight years. If gold's strength continues for the rest of the year, it will have closed higher every year for 10 consecutive years.
"I'm swamped," said a gold bullion broker I spoke with on Thursday. "Whenever gold hits a new high, the phones light up."
At
DailyWealth
,
we've pounded the table for gold since 2005
, when we launched this service. So the gold rally is fantastic news for longtime readers. If you're one of these readers, congratulations. You're on your way to making a fortune in gold.
But what if you haven't bought gold yet... or you want more?
Gold has basically risen in a straight line for the past two years, making it one of the hottest investments in the universe right now. As much as I love gold, I can't bring myself to buy bullion at current market prices.
Today, I'm going to tell you about the only gold investment I know of that's suitable for new buying right now.
First, this investment is trading cheaper now than ever before. Second, it's fairly liquid, so the bid-ask spreads are tight, minimum investments are low, and you can trade it in almost any town in America. Finally, it's 100% physical gold, so you can hold it in your possession.
I'm talking about vintage gold coins.
The government outlawed gold in 1933. Vintage gold coins were minted before 1933. Because the government melted down most of these gold coins after the prohibition, few of the pre-1933 coins survive today. The historical value, the rarity, the beauty, and the gold content make these coins extremely valuable, especially if they're in mint condition.
(The vintage gold coin industry uses a grading scale to determine the condition of a rare coin. Once the graders have rated them, they enclose them in tamper-resistant cases, so everyone instantly knows what they're worth and you don't need to be an expert to judge the value of a vintage coin. I consider any coin with a grading of MS-65 or higher to be "mint condition.")
Pre-1933 gold coins' "intangible" assets mean they always trade at a premium to the spot price of gold. For example, the most common mint condition pre-1933 gold coin is the $20 Saint Gaudens Double Eagle. It contains 0.98 of an ounce of gold. There are around 200,000 in existence in mint state.
Right now, this coin trades for $2,150... a 65% premium to the price of the common modern gold coins. But it's actually incredibly cheap...
You see, even though gold has risen 350% in the last eight years and is shooting through the roof right now, rare gold coin prices have lagged.
Take the mint condition $20 Saint Gaudens I mentioned above as an example. In 1990, when gold traded at $400 an ounce, this coin sold for $4,000... almost double today's price.
In 2003, when gold hit $400 an ounce again, the price of this coin was around $1,000. Gold has more than tripled since 2003, but the Saint Gaudens has only doubled.
In 2007, gold hit $700. It's up about 75% over the last three years. This chart shows an index of vintage gold coin prices over that same period. You can see vintage gold coins still trade at 2007 prices.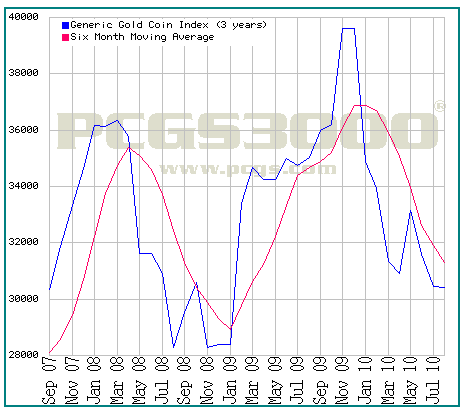 In other words, you're getting a better deal now than you would have gotten at the bottom of the gold market in 2002. Vintage gold coins have not risen in line with gold over the last 10 years and – relative to the price of gold – they are now at the lowest prices in over 30 years.
Given how cheap they are compared to gold, how little they've gained in price over the last eight years, and how special they are, vintage gold coins are the safest, lowest-risk, highest-reward gold investment in the world right now.
If you're considering buying gold, you should think about vintage gold coins first.
Good investing,
Tom