Today's DailyWealth message is simple...
If you want to make extraordinary returns in stocks, make sure you get paid.
And when it comes to getting paid in the stock market, one strategy works better than any other.
The strategy is to focus on "boring" businesses that pay their shareholders cash every single year and increase the amount they pay their shareholders every single year. Below, I'll show you how it works, and how you get can started immediately...
First, know that most people lose money in the stock market. They lose because they're always looking for excitement... they're always looking to buy the next big company... like the next Starbucks or the next Google. After all, these companies have returned early investors thousands of percent gains.
But what most folks ignore is that for every big winner like Starbucks, there are hundreds of failed coffee chains. The odds of investing in a company on the verge of Starbucks-like success are tiny... less than 1%. So with the "excitement" line of thinking, most folks have lost even before the game begins.
It's far more profitable to forget "exciting" and get interested in boring dividends. Let me prove it to you...
Market research firm Standard & Poor's has put together a list of the best dividend-paying companies. It calls these companies the "Dividend Aristocrats." The criteria is simple... A Dividend Aristocrat is any S&P 500 company that has raised its dividend for at least 25 years running.
This provides a level of safety other businesses cannot match. And as stocks sold off this month, many of these businesses held strong. But these companies don't just outperform in bad times.
The Dividend Aristocrats have vastly outperformed the overall stock market over the past decade. Take a look at the chart below...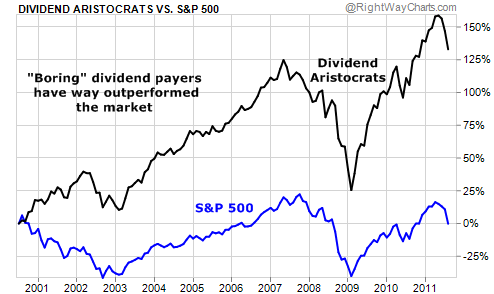 This chart shows the total return (including dividends) of the S&P 500 and the Dividend Aristocrats. As you can see, the S&P 500 is flat over this time span. But the Dividend Aristocrats have returned over 130%.
The reason for this huge outperformance is just common sense. By owning relentless dividend payers, you're investing in shareholder-friendly companies with robust business models. By owning a broad S&P 500 index fund, you're investing in lots of companies that don't pay their shareholders a dime... companies that might not even be around in a few years. It's a no-brainer.
One final, amazing fact: The Dividend Aristocrats have provided a positive return, even if you bought right at the broad market's peak in 2007. How many stocks can you say that about?
Buying companies that sell "the basics" – and making sure you get paid – might not be as exciting as looking for the next great growth stock. But if you're more interested in building wealth than gambling, this is the strategy for you.
Good investing,
Brett Eversole