"DeBeers' stockpile is gone..."
What? There aren't any more diamonds? C'mon... it can't be true...
Everyone knows that DeBeers has an infinite stockpile of diamonds, and they artificially keep the price up... right?
Wrong...
I wouldn't have believed it myself... except the source telling us that "DeBeers' stockpile is gone" couldn't be more credible... It's Pierre Lasonde, the President of Newmont Mining, the world's largest gold mining company. Pierre dropped this bomb in a recent interview with my friend, Bob Bishop.
I checked, and he's basically right... As recently as six years ago, DeBeers had a stockpile of $5 billion worth of diamonds. Now they're down to what they consider "working stock."
Not only is DeBeers' stockpile gone, we're actually looking at a shortage of diamonds by 2008.
So now DeBeers has to find diamonds. The company is aggressively pursuing new diamond mines. In August, DeBeers actually closed its underground mine in Kimberley, South Africa, where the first kimberlites were discovered. And the biggest diamond mine in the world, the Argyle mine in Australia, may close in 2007.
So Pierre's putting his money where his mouth is... This year, Newmont acquired a stake in a Canadian diamond mining company, worth about $100 million, or 10% of the company.
According to Pierre Lasonde, "Diamonds are just a great business. If you look at the three largest mining companies in the world, BHP, Rio Tinto, and Anglo American, guess what? All three of them are in the diamond business. They are the only three of any consequence. I think there should be a fourth one, Newmont."
Pierre also acknowledges the risks: "When you look at the exploration statistics in the diamond business, the stats are horrendous. The gold business is like 1 in 1,000, the diamond business is more like 1 in 10,000."
And then he explains his strategy for how to invest successfully when the exploration numbers are so bad: "We made the decision that we are not going into exploration, but that if we were to see an early stage project that we felt had a chance of really getting to production, we would take a position."
Ultimately, these major mining companies are in business because they think they can make some money. Pierre said:
"DeBeers' stockpile is gone... There's no [scrap] supply in the diamond business... it is all fresh product."
So what we're looking at here is a commodity where everyone thinks there's an enormous stockpile of diamonds already extracted from the earth, but the opposite is closer to the truth. That gets me interested.
As most readers know, I love to look for assets that everyone has left for dead, yet offer great value. I also like to see an uptrend after the asset has been falling for years. Diamonds qualify.
As a matter of fact, while gold is near 25-year highs, diamonds are way behind. We're still close to 25-year lows, as this chart shows: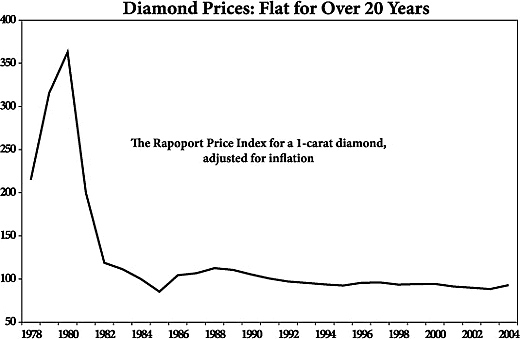 How many assets are close to 25-year lows these days?
They're hard to come by. Yet the uptrend has clearly been in place since early 2004 (as the chart of the Diamond Price Index shows.)
While nobody in the mainstream is paying attention, diamond experts are projecting big price rises in the next decade, as the shortage of supply hits increasing demand from the U.S. and China. Here's one expert's projection of diamond prices: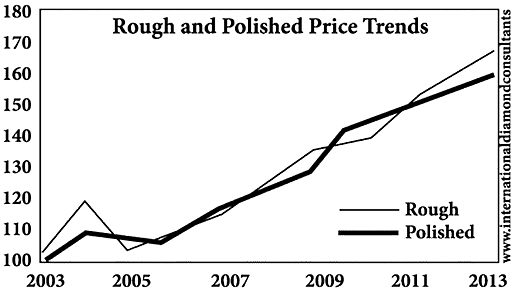 In the case of diamonds,
1) everyone thinks there's an enormous stockpile, but there's not.
And,
2) the trend in diamond prices since January 2004 has been up, not down.
These two thoughts alone got me interested. Diamonds are thoroughly ignored.
They'd be laughed off CNBC. They're also cheap, and for the moment, more scarce than you think.
It's time to buy.
Good investing,
Steve