No one's paying attention... But one of the world's cheapest stock markets has entered a stealth bull market...
Since bottoming in March, this market is up 23%. But no one is talking about it...
Better still, history shows that this could be just the start of a much larger move. Triple-digit gains are the norm from these levels.
Let me explain...
Today's opportunity might not be in the most savory place to invest... But it's one you have to consider right now.
Our big opportunity is in China...
You see, Chinese stocks have been stuck in a bear market over the past few years. The iShares China Large-Cap Fund (FXI) remains 33% below its 2007 high. But over the last few months, Chinese stocks have rallied...
FXI is up 23% since March. And it's in the midst of breaking out of its multiyear downtrend. Take a look...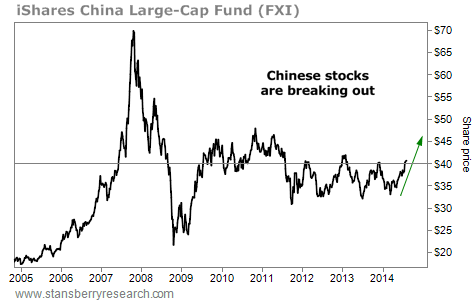 Longtime readers know we always like to wait on an uptrend before buying. Cheap stocks and stock markets can always get cheaper. So, buying after an uptrend begins dramatically lowers our risk.
This important thing is, even though Chinese stocks are up 23% in just a few months, we still have plenty of upside for one simple reason...
Chinese stocks remain one of the cheapest markets in the world.
The table below shows what I mean. It shows the Hang Seng China Enterprise Index (the "HSCEI") – an index that tracks large Chinese companies that trade in Hong Kong – versus a few of the world's major stock markets.
Any way you look at it, China's largest companies are dirt-cheap compared with the rest of the world...
| | | | | |
| --- | --- | --- | --- | --- |
| Region | Index | P/E Ratio | Price-to-book | Dividend Yield |
| USA | S&P 500 | 17.6 | 2.7 | 2.0% |
| Japan | Nikkei 225 | 20.0 | 1.6 | 1.6% |
| Eurozone | Euro Stoxx 50 | 22.3 | 1.5 | 3.7% |
| Hong Kong | Hang Seng | 10.8 | 1.4 | 3.7% |
| China | Hang Seng China Enterprises | 8.1 | 1.2 | 4.0% |
China trades at a 50%-plus discount to the U.S., Europe, and Japan, based on earnings. It also pays a higher dividend, roughly 4% today. That's double what the U.S. market pays. But that's not the best part...
You see, China is also cheap compared with its own history. It's now cheaper than it was the last two times Chinese stocks soared...
Take June 2005, for instance. Back then, the Hang Seng China Enterprise Index traded for around 10 times earnings. That valuation extreme kicked off a multiyear bull market good for 333% gains.
Similarly, in October 2008, the index traded for around eight times earnings. Chinese stocks soared 132% over the next year.
Sure, shares of FXI are up 23% in just a few months. But from this level of cheapness, Chinese stocks could easily return triple digits from here. It has already happened twice in the last decade.
Of course, we can't know for sure if this is the start of the next bull market. But Chinese stocks are breaking out and they're dirt-cheap... compared with their own history and the rest of the world.
These two pieces make buying today considerably less risky. Chinese stocks – through the iShares China Large-Cap Fund – are worth considering right now.
Good investing,
Brett Eversole