The market is teaching investors a timeless lesson...
It's one longtime DailyWealth readers should already know.
Selling the basics works.
"The basics" are products that the average consumer can't or won't live without... that have tremendous brand loyalty... and that don't break the bank. Things like soda, cigarettes, and soap.
No matter what happens with stocks, the economy, or interest rates, there's steady, reliable demand for these products. And that steady, reliable quality extends to the stocks of the companies that sell the basics.
Because their products are already widely adopted and adored, these companies don't have to spend lots of money to grow their businesses... And that means they can return a lot of the cash they generate to shareholders in the form of dividends and buybacks.
The shareholders in these stocks know they can count on getting that cash, so these stocks generally fall less in a market panic... and recover more quickly.
Let me show you what I mean...
Over the last month, a wave of fear has spread through the market. Investors are extremely worried about the economies of Europe and China. The benchmark S&P 500 is down nearly 7%. But the real rout is in the market's riskier sectors, like oil drilling, coal mining, and steel making.
SPDR Oil & Gas Equipment & Services Fund (XES), which holds a basket of the world's largest oil- and gas-related stocks, is down 31% since its peak in late June.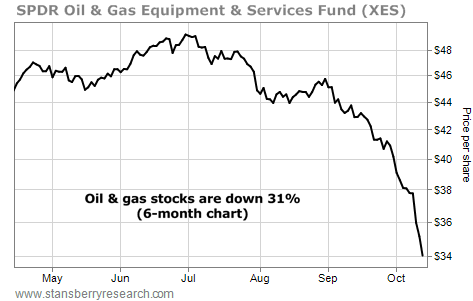 Market Vectors Coal Fund (KOL) holds a basket of the world's largest coal-related stocks. It's down nearly 20% since its peak in mid-August.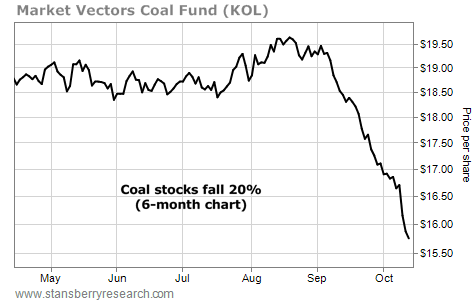 And Market Vectors Steel Fund (SLX) holds a basket of the world's largest steel-related stocks. It's down nearly 17% from its peak in late August.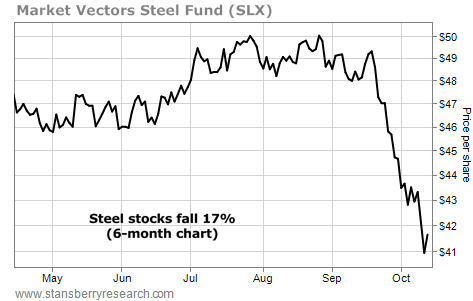 These are no big brand names in coal, steel, oil, and other commodities. The companies that produce them have to accept market prices. These businesses have low profit margins... which creates volatility. And demand for their products and services can fluctuate wildly with the economic cycle. Except in rare cases, the businesses don't reliably return cash to shareholders in the form of dividends and smart share buybacks.
So when things look bad... when folks get scared, they dump these stocks.
That can set up great opportunities for speculation. But you never want to have the bulk of your portfolio in long-term positions here...
You want to put most of your money with companies that will treat it well... And you'll find a few of DailyWealth Trader's favorite "basics" companies are doing just that.
Wal-Mart is a great example. It sells everything from baby clothes to groceries... And it sells them cheap. Whether times are good or times are bad, there's always a market for cheap necessities.
Wal-Mart shares pay a better-than-average 2.5% dividend. The company has raised its dividend for each of the last 41 years. Shares have climbed 2.4% over the last month.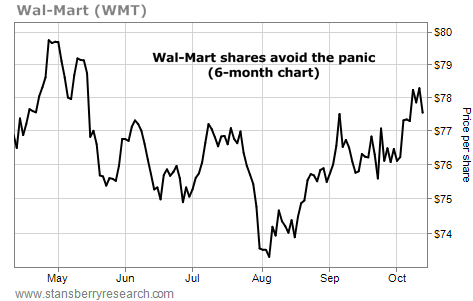 Coca-Cola sells its sugary drinks no matter what's happening in the world. It has 17 brands that each do more than $1 billion in annual sales. Its 3,500-plus products are sold in over 200 countries.
Coke pays a 2.8% annual dividend... And it has raised its dividend 50 years in a row. Shares are up about 6.3% in the last month.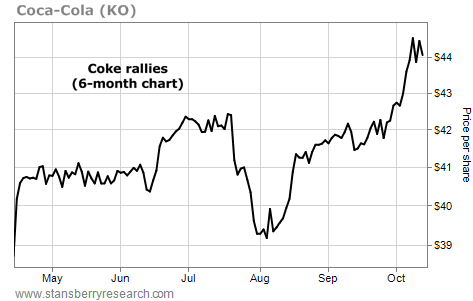 Another company whose products folks can't live without is Becton Dickinson. It's unlikely people will stop getting sick and going to the hospital... So Becton Dickinson's medical supplies will continue to have a constant, strong demand.
Right now, Becton Dickinson shares yield 1.7%. It has raised its annual dividend payout for 42 consecutive years. After announcing it will acquire another medical-supplies company, CareFusion, shares shot higher. The stock is up nearly 11% in the last month.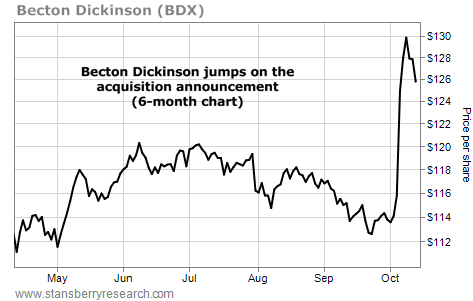 Wal-Mart, Coca-Cola, and Becton Dickinson all sell the kinds of products that will sell no matter what. And they all have the reach and branding that give them the power to charge a price high enough to produce a profit and pay their owners, the shareholders.
In other words, they're a lot safer than the average stock... And in times of market panic, it pays to have the bulk of your portfolio concentrated on the basics.
In my DailyWealth Trader service, we take shots at making big, short-term gains in cyclical stocks that have reached extremes in price or sentiment. But the ideas we come back to over and over again are stocks that sell "the basics." You should do the same.
Regards,
Amber Lee Mason