We pocketed 343% in biotech stocks in True Wealth Systems from early 2011 to April 2014...
I tell you this because our True Wealth Systems computers told us to get back in again at the beginning of October. It has been the right call, so far... Biotech stocks have soared in the last couple weeks. And there are more gains to come.
Let me explain...
We bought biotech stocks in my True Wealth Systems letter in January 2012. At the time, we were coming out of the 2011 stock market correction. Folks weren't interested in anything risky. So no one was paying attention... But biotech stocks started a "stealth" bull market.
We ignored the crowd and bought. Here's what I wrote in January...
We just got a new "buy" signal on biotech stocks...
As I've written many times, "If you catch just one biotech bull market in your lifetime, you may never have to work again." We may be entering the next biotech bull market right now. Get on board.

The trade turned into a 56% gain in just 10 months.
The market "whipsawed" us out of our trade in November 2012. The trend turned against us. So we followed our discipline and sold for a 56% gain.
A month later, biotech moved back to a "buy." And even after our big gain, biotech stocks were still cheap and hated.
Most investors would be scared to buy back into a trade a month after locking in a 56% gain in 10 months. But based on history, we saw a huge opportunity and we got back in.
We closed our second biotech trade in April 2014... locking in a 184% gain in just 16 months.
Both trades combined led to a 343% gain... enough to turn $10,000 into more than $44,000 in a little more than two years.
In this month's issue of True Wealth Systems (which comes out at the beginning of each month), we got back into biotech once again...
The uptrend is back... biotech stocks are outperforming even while risky assets around the world fall in price. And while biotech stocks aren't as cheap or hated as they were before, our opportunity is still great.
History shows triple-digit gains are possible from here... even after the massive gains we've locked in.
It might be surprising to hear this... but biotech stocks are still a decent value today. The major biotech stocks only trade at small premiums to the overall stock market... But they are worth that premium, as their expected earnings growth is dramatically higher than the overall stock market. In short, there is plenty of upside.
Even though we have plenty of upside, investors haven't shown much interest in biotech stocks this year...
Investors have given up on biotech stocks every time they've fallen in the past. It happened before we entered our second biotech trade in 2012, and it's happening again today.
We can see this clearly by looking at the shares outstanding of the iShares Nasdaq Biotech Fund (IBB). A rising or falling share count in an exchange-traded fund (ETF) gives us insight into what real investors are doing with real money.
Take a look...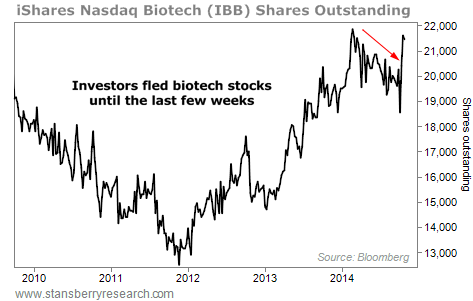 Investor interest had been declining all year until the recent spike. And as contrarians, that's exactly what we like to see.
Biotech isn't nearly as hated as it was in late 2011. But it also isn't cocktail-party talk yet today. It isn't in the newspapers. It isn't today's hot investment.
So even after locking in big gains over the past few years in two different biotech trades, our opportunity in biotech today is still great.
Biotech stocks still offer a good value, are not the talk of the town yet, and they are in a powerful uptrend. You can easily make the trade with the iShares Nasdaq Biotech Fund (IBB).
Our True Wealth Systems computers have a fantastic track record in biotech... I suggest you follow them into this trade...
Good investing,
Steve