It has happened to most investors at one time or another.
You nail the "big picture." You get the idea exactly right. But your investment of choice turns out to be a dud.
Instead of profiting, you earn nothing... or even worse, you lose money.
Today, we have a simple solution to the problem. By owning ETFs, you have a simple way to capitalize on all of your "big picture" investment ideas.
Let me explain...
One of the simple goals of ETFs is indexing. When you index your investments, you immediately gain the advantage of diversification...
By diversifying, or spreading your bets, you lower your risk of picking the wrong company.
Contrary to what you might think, a rising tide doesn't always raise all ships. There are always companies that run into trouble. And even if you get the "big picture" right, choosing the wrong investment can lead to devastating results.
Even in the recent bull market, certain companies have drastically underperformed... I'm talking about household names. Companies most investors would expect to do well.
Let's look at an example in the health care sector...
Health care stocks absolutely soared coming out of the financial crisis. The sector has more than tripled since the bottom in March 2009. But not all companies profited.
Take drug-making giant Pfizer, for example. Since April 2013, health care stocks in general increased nearly 50%. Anyone betting on the sector should have made a lot of money over the period. But if you'd bet on Pfizer, you'd be kicking yourself.
Over the same period, shares of Pfizer were up just 11%. Take a look...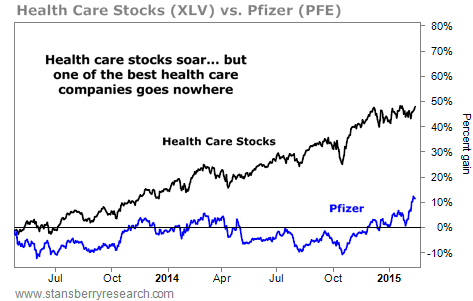 Betting on the health care sector was a fantastic idea. But betting on the wrong company in the right sector led to minimal gains...
This is why diversification is so important. By getting the "big picture" correct and betting on a broad group of companies, your odds of profiting increase dramatically.
Sure, you won't be able to make the biggest gains possible by diversifying your bets. But in order to make the biggest gains, you have to find the absolute best business. And it has to be the business that the market decides to reward. You're looking for the needle in a haystack.
The safest way to invest is by diversifying. And ETFs offer an easy way to do just that.
If you're interested in health care stocks, you can simply pick up shares of the Health Care Select Sector SPDR Fund (XLV). With one click and one brokerage commission, you own a basket of the largest and most powerful health care companies in the United States.
Getting the "big picture" right isn't enough if you choose the wrong investment. ETFs are the simplest way to avoid this problem.
Good investing,
Steve