I spent most of the weekend at the Ritz Carlton in Amelia Island, Florida – where a 1960 Ferrari sold for a cool $6.38 million on Saturday.
Classic Ferraris are up 254% over the last five years... but it wasn't just Ferraris that people were buying. Heck, a 1973 Porsche 911 sold for $891,000 – and to you and me it just looks like, well, a Porsche 911 from the 1970s.
The Amelia Island car show over the weekend brought in a record $100+ million dollars in total car auctions...
An event planner I spoke with told me they raised ticket prices by 25% to $100, with a goal of reducing the number of attendees... If that was the goal, they failed. Take a look...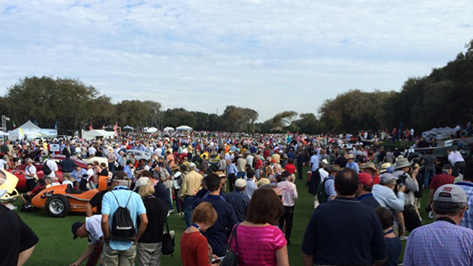 This was the scene Sunday morning, less than 30 minutes after the show opened. Folks poured in. And the crowds didn't let up until late in the day. I've been going to this show for years. This year was the busiest – by far.
Last weekend's event in Amelia Island showed me that American investors are no longer fearful. The prices and the turnout made me think that we are in the later innings of this stock market boom, where investors are becoming more willing to speculate.
The car market wasn't always this hot... The entire classic car market fell by double-digits during the financial crisis, based on the Historic Automobile Group International (HAGI) Index. But this weekend shows that times have changed...
The wealthiest in America are flush with cash. They've made good money in stocks so far. And they're using their gains and their optimism to boost prices in classic cars (among other assets).
The U.S. stock market celebrated six years of this bull market earlier this month. The fun doesn't have to end tomorrow... But this weekend showed me that we are no longer early in the boom.
Massive crowds, high prices, and strong optimism at a vintage car show are something you'd see closer to the top of a market than the bottom.
To me, this weekend was another sign of the top... In my opinion, we are closer to the end of the great bull market in stocks than the beginning.
Good investing,
Brett Eversole