"If you catch just one biotech bull market in your lifetime, you may never have to work again..."
I've written that many times here in DailyWealth.
I hope you've taken me up on that advice – and caught this bull market – because it has been a great one.
Subscribers to my True Wealth Systems letter sure have taken advantage of this bull market...
TWS subscribers who followed my advice since the beginning of 2012 would have turned $100,000 into more than $788,000. We didn't do something complicated, either...
We bought a simple biotech index fund – an exchange-traded fund (ETF). Here are our trades:
| | | | |
| --- | --- | --- | --- |
| Start | End | Gain | $ 100,000 |
| 1/4/2012 | 11/5/2012 | 56% | $ 156,000 |
| 12/5/2012 | 4/2/2014 | 184% | $ 443,040 |
| 10/1/2014 | Today | 78% | $ 788,611 |
We did two things right...
We bought a "double-long" ETF, which magnified our gains.
We've stuck with it. We haven't bailed, even though readers are up nearly 700%.
You know what? We're STILL not selling yet.
This biotech bull market – in our opinion – is not over yet.
We get it... We know that a 700% gain in a little more than three years is big. We can ask, just like you, how much more is left?
When we ask ourselves objectively, we still think there's more upside potential.
Here are two reasons why:
| | |
| --- | --- |
| 1. | Biotech stocks are expensive... but they still aren't near the nose-bleed levels they reached in their last great bull market. Take a look: |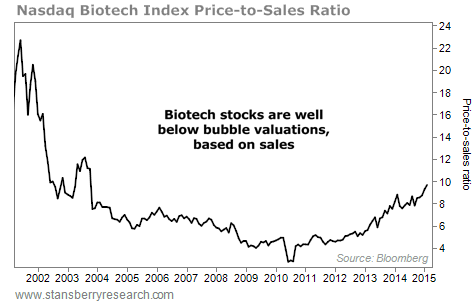 Don't get me wrong... I realize today's values in biotech stocks are not sustainable. I realize today's near-bubble in biotech stocks will burst, someday. But right now, I don't want to miss out on the fun before the day of reckoning finally arrives.
| | |
| --- | --- |
| 2. | The general public hasn't gone crazy over biotech stocks yet. (For example, according to Jason Goepfert of SentimenTrader.com, we are not seeing an extreme in investor optimism in biotech stocks yet.) |
At the peak of a market, the general public is usually crazy about a sector. But the general public hasn't been enamored with biotech – yet. When the general public is finally excited about biotech, the top will be near. We are not there yet.
We will get out of our biotech trade when our True Wealth Systems computers tell us it's time to get out of biotech... At that point, we'll be done. We'll be satisfied. We'll have done our job for our subscribers, pocketing hundreds of percent in a couple years in an ETF.
But we are not there yet...
It's definitely late in the game in the biotech bull market... But we think there's a bit more juice to squeeze out of it.
It ain't over yet.
Good investing,
Steve