It's one of the most powerful forces for bigger investment returns...
It's a godsend for people interested in large investment income streams...
It's a powerful, two-word term: "tax-free."
When it comes to your business, your job, your investments, or anything related to wealth building, taxes are a gigantic factor in your end result.
For example, if you earn $1,000 in taxable income, and you're in the 33% tax bracket, you'll pay $330 in taxes to the government... and keep $670. If that income was tax-free, you'd keep all $1,000.
Since $330 is 49% of $670, you end up with 49% more money (and that's just in the first year).
That's why, when it comes to earning income on a chunk of savings, we love municipal bonds...
Municipal bonds, or "munis," are loans made to state and city governments. To encourage folks to invest in government projects, interest received from munis is exempt from federal income tax and, in some cases, state and local income taxes.
Whenever you're looking for an income investment, you should have a look at municipal-bond yields. If they're similar to another, taxable payout – and the risk in the investments is about the same – you'll always want to opt for the munis. You might even choose municipal bonds over another investment that has a higher, taxable yield.
Take the Nuveen Municipal Opportunity Fund (NIO), for example. Muni funds like NIO are a great way to buy a diversified basket of muni bonds. NIO holds about 370 different municipal bonds... and it pays a 6.1% yield. If you're in the 33% tax bracket, that's like earning 9% on a taxable investment. That's far better than almost any other investment with even a 7% or 8% yield.
And right now, some muni funds, like NIO, are trading at huge discounts. You see, NIO is what's called a "closed-end" fund. Most funds, like mutual funds and exchange-traded funds, have an unlimited number of shares to issue. If folks buy more shares, the funds simply buy more assets and sell more shares. These "open-end" funds always trade near the value of their assets.
But closed-end funds are different... They have a fixed number of shares. If lots of folks buy them at the same time, they'll trade at a premium to the fund's asset value. If lots of folks sell them at the same time, the shares can trade at a discount. A 10% discount is like buying a dollar bill for $0.90.
For instance, NIO trades at a 9.3% discount to the value of its assets (its "Net Asset Value" or "NAV"). It has only traded with this big of a discount 7% of the time in the last five years. The chart below shows NIO's share price (the black line) and the discount to its NAV (the blue line) over the last five years.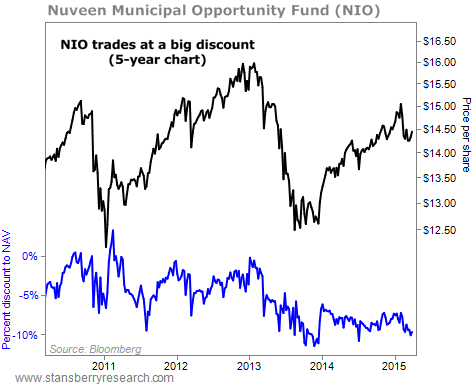 The reason NIO, and funds like it, are such a great buy today is the improving U.S. economy. This means municipalities will have more tax revenue to pay bondholders... But it also means that the U.S. central bank, the Federal Reserve, is more likely to raise interest rates.
As you may know, higher rates mean bond prices could fall... It's a risk with buying municipal bonds today. But since lots of investors are already expecting this to happen, they've sold their bonds in advance of any action by the Federal Reserve.
This selling has caused an especially big discount... giving us a cushion for our trade. It means shares of NIO could rise even if the value of its bonds stays the same... or even if it falls a bit.
"Tax-free" is one of the most powerful phrases in the investment world... It's a way to boost your income with no added risk. Take a look at closed-end muni funds, like NIO, trading at a big discount today.
Regards,
Brian Hunt and Ben Morris